You Decide! is a poll system on the Island News Blog. They include votes where players can pick a feature that will be in Club Penguin Island from a few basic options. Voting is done in an ordinary poll.
List of You Decide! polls
For the polls from Club Penguin, see You Decide!/Club Penguin
2017
June 5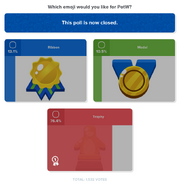 The poll from June 5, 2017[1] was created for the selection of the third emoji which would complete the emoji pack given as an award to the Penguin of the Week. The options were the "Penguin Superstar (Ribbon)", "Penguin Superstar (Medal)" and "Penguin Award". The "Penguin Award" emoji won with 76.4% of the votes.
References
Ad blocker interference detected!
Wikia is a free-to-use site that makes money from advertising. We have a modified experience for viewers using ad blockers

Wikia is not accessible if you've made further modifications. Remove the custom ad blocker rule(s) and the page will load as expected.