Not the article you were looking for? Check the disambiguation page.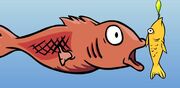 Fluffy the Fish (a.k.a. Yellow Fish) are small yellow fish who are also recurring characters that appear in games, missions, rooms, and even on the main currency, the coin, throughout Club Penguin.
Fluffy the Fish Game
Main article: Fluffy the Fish (Game)
Fluffy the Fish is a game for Club Penguin's Beta Team game testers. It is a fun mini-game where the player plays as Fluffy and he/she tries to eat the smaller fish, thus growing in size after eating so many. The player can use the arrow keys, his/her mouse, etc.
Appearances
Trivia
Gallery
References
Ad blocker interference detected!
Wikia is a free-to-use site that makes money from advertising. We have a modified experience for viewers using ad blockers

Wikia is not accessible if you've made further modifications. Remove the custom ad blocker rule(s) and the page will load as expected.