This page is incomplete!
This page is a stub. You can help by expanding it as soon as possible, then removing this tag.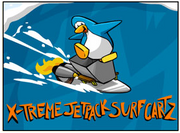 X-Treme Jetpack Surf Cartz is another one of X-Treme Penguin's inventions. It is yet another failed design. It was made because the penguin was bored of the same old games.
Components
A Mine Cart, with a Silver Surfboard underneath it, and a jet pack was strapped to the surfboard.