This page is incomplete!
This page is a stub. You can help by expanding it as soon as possible, then removing this tag.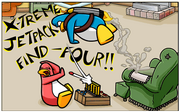 X-Treme Jetpack Find-Four is one of X-Treme Penguin's inventions, which involved a jetpack (as with all of his games).
What Happened in the Comic
X-Treme Penguin used a jetpack and took off during a Find Four game. He attempted to throw the counter into the slot, but ended up hitting the other penguin.
Trivia
This was the only X-Treme invention that involved only a jetpack.
This was the X-Treme Penguin's fourth appearance.
Gallery
See also