Water Suit
Talk

0
6,412pages on
this wiki
This page needs an infobox.
This page is missing an infobox. Please add an infobox suited to the article, by clicking here.
Cleanup
This page needs a cleanup. You can help by cleaning it up (i.e., fixing coding, correcting spelling and grammar, etc). Please make sure it meets the Manual of Style guidelines.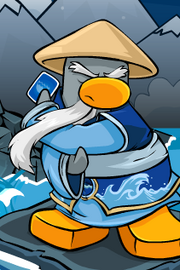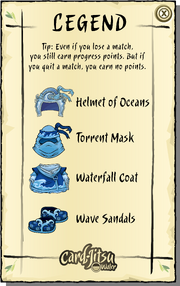 The Water Suit is a type of clothing set comprised of four items, respectively, the Wave Sandals, Waterfall Coat, Torrent Mask, and Helmet of Oceans. It can only be obtained by playing the new members only Game, Card-Jitsu Water. There was a catch though. During the Card-Jitsu Party you could obtain this and the Fire Suit When your penguin dances with the full water suit on they spiral water around themself. When you wave, you will disappear (like the Cloud Wave Bracers, but with Water). The Water Amulet does not have to be worn with the suit. If you don't have the Water Gem on your Amulet don't worry about it because you will still be able to do the Water dance!
The Objective
Edit
To earn all four pieces, you need to play against other penguins, either 1, 2, 3 or 4 players. You have to use your cards to defeat elements on rocks whilst avoiding falling off the edge. You must be either last penguin standing or hit the gong at the end to win. The more you win the more of the suit you get. When you have all your suit you battle Sensei to win your Water Gem. Then you will be a Water Ninja.
These are the items' IDs: