Archived
This article is about something that was for a period of time or is no longer in Club Penguin.
Real Life
The article you are reading is about something real life related to Club Penguin.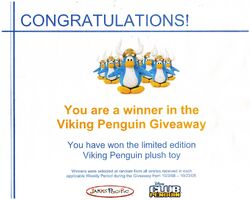 Starting on October 10, 2008 until October 23, 2008, Club Penguin started a Viking Penguin Giveaway where you entered information and you could win a Limited Edition Viking penguin toy. There were only 3000 Viking penguin toys and the chances of winning were slim. Not many people knew about it. Most people found out about it by bloggers blogging about Club Penguin.
Extras
Not only was the Viking penguin toy limited edition, but it came with a few Extras such as:
A certificate that says "Congratulations! You are a winner in the Viking Penguin Giveaway, You have won the limited edition Viking Penguin plush toy."
The Viking penguin also came with a code that you can unlock items with online.
See also