Wolf-gangs has decided to no longer visit or edit this wiki. If you are looking for help, please contact an administrator.
27,160 bytes
Archive in 30,000 bytes

--
Wolf-gangs (Talk) 17:37, August 27, 2015 (UTC)
RE:Re:Rockhopper image
Hi Wolf,
Nice image :) The offset is caused simply by the way CP has positioned the item itself (after all, in-game sprites aren't an accurate version of the player card look, and are usually more rough and are missing details. This is the result of zooming in and receiving the imperfections of the original design).
Penguin-Pal (talk) 10:48, August 16, 2014 (UTC)
Kurst SWF Renderer
Hi, Wolf-gangs.
I just wanted to know if Kurst SWF is free. If it isn't, what other free programs would work well for high quality images?
Thanks,
Fancypantsguy8 (talk)
19:55, August 16, 2014 (UTC)
Download SWFs
Hey, Wolf-gangs. I downloaded Kurst SWF Renderer and I am confused on step 2. When it says to download the player card and in-game SWFs, what am i supposed to actually download? The image, or link, or what? Also where do i put them after i download? Thank you,
Fancypantsguy8 (talk)
15:49, August 18, 2014 (UTC)
Reminder
Hi Wolf,
I know you're on vacation right now, but so I don't forget and so you remember, I'll leave this reminder. The vote you made about a month ago to remove specific ban/block times in the policy passed a while ago, and the times are still not removed. You said you would move the times elsewhere. Once you get back from your vacation, it would be great if you could do this (or else, it will be like there was no point in the vote :P). Thanks, and enjoy your vacation.
Kallie Jo (talk) 23:49, August 20, 2014 (UTC)
RE:Inactivity
Hey Wolf-gangs,
I appreciate your messages prompting me to get back onto the Wiki. Unfortunately I didn't look at the messages until now, but even without looking I kinda guessed what it would be about.
It's a little disappointing being demoted from admin status, but I fully understand and support the decision. I don't come around as much as I used to, and someone a lot more active than me could take my place and do a lot better of a job than I have these past months.
You asked for a reason for my inactivity. While I know this doesn't change anything (and I don't expect it to), I've been busy with a lot of things, online and off, that have kept me away from the Wiki. I won't go into details, but I'm sure you understand. Your average inactivity letter, haha.
I want you to know that I have no hard feelings whatsoever. I still plan to come onto the Wiki every now and again to help out with images 'n' such, though not nearly as often as I used to. My reasons for inactivity persist.
Thanks again for helping me out while I was admin.
Ciao for now,
--Ocean6100 (talk) 09:20, August 21, 2014 (UTC)
RE: Congratulations
Hi Wolf,
Thanks for the congratulations. However, as you may or may not be aware, the admin votes have been continued. I am okay with this. PP has let me keep my rights until the votes are over, and I look forward to working with you and the rest of the team until the votes finish and my fate is decided.
Thanks,
--THE RULER AND DICTATOR OF AWESOME HAS RETURNED!!!!! TALK TO HIM, OR ELSE! 21:40, August 27, 2014 (UTC)
RE:Inactivity
Hello Wolf-Gangs.
I am truly sorry that I have been inactive. I just got my computer fixed. I was going to contact the Admins that I had problems but I had no way to contact anyone. Please do know that I might not be as active simply due to school for the most part. I am mainly always going to come online during weekends. I plan to be fully active when I have a break.
Thank You.
Hai
Is the chat working for you?.
Redidy Penguin (talk) 06:34, September 4, 2014 (UTC)
RE:Penguin Style Release Date
Hi Wolf,
They are available here. The dates are also available in the other catalogs, though are collapsed by default due to the large space the lists tend to spread on.
Penguin-Pal (talk) 20:49, September 13, 2014 (UTC)
Swearing
Hi Wolf. The user Kola Pola swore. I can't find his/her account on this wikia. Proof:
Please trust in me, I don't know how to edit this kind of image!
LukeLeia75 (talk) 01:42, September 14, 2014 (UTC)
Hi, I just saw this message and I have checked the chat logs and I see the language Kola Pola has used and I have banned him/her for 3 days.
Callum Fawsitt (talk) 10:02, September 14, 2014 (UTC) Callum Fawsitt
Dear Admin
Dear Admins!
As you may know already that the vote to bring back the Penguin Herald successfully passed.
I am wondering if I will be able to manage it or maybe take part in developing it and posting frequently since I already have good skills from working on the Wikia's Facebook Page.
Let me know what you think and you're thoughts.
Thanks, Callum!
Callum Fawsitt (talk) 22:27, September 23, 2014 (UTC) Callum Fawsitt
Dear Admin
Hey guys, I was looking at Callum's post (Im not sure if he sent it to you) and saying that Me and Phineas already have the Penguin Herald in control. We are making the newspaper (Mainly Phineas) and will be released soon. And to respond to callum, maybe. (You might get this twice i did something wrong :P)
22:57, September 23, 2014 (UTC)
Re: Quitting
Hey, Wolf.
I'm doing fine. Although I'm becoming even busier, I don't have any set plans for quitting, so there's nothing to worry about. As for your compliments, I would say the same to you. :)
Thanks for your message,
--Hey.youcp
00:15, October 1, 2014 (UTC)
Abesnt notice
Dear Administration, Just a heads-up, I will be absent from the wiki for the following week or two. School is demanding much more from me at the time, so I must focus primarily on that for now, even on the weekends. Thank you for your attention,
Jeserator HTTR!

16:56, October 11, 2014 (UTC)
Holiday Period
Dear Admin! :)
I will be away on vacation between Thursday Night, 16th of October until Sunday Night, 19th of October.
Hope to see you soon! :)
Regards, Callum!
Callum Fawsitt (talk) 16:52, October 16, 2014 (UTC) Callum Fawsitt
Hi
Hi Wolf,
Whats up :P I wanted to say hi in chat, but it doesn't seem like you're available right now.
Penguin-Pal (talk) 10:37, October 17, 2014 (UTC)
Admin Wiki
Hi Wolf,
Could you please grant me access to the admin wiki? I talked to PP, he said that it was okay.
Thanks, and please message me on my talk page once you have added me so that I know when you've done it.
--THE RULER AND DICTATOR OF AWESOME HAS RETURNED!!!!! TALK TO HIM, OR ELSE! 21:21, October 24, 2014 (UTC)
Happy Holidays!
HAPPY HOLIDAYS! from Dps04 :)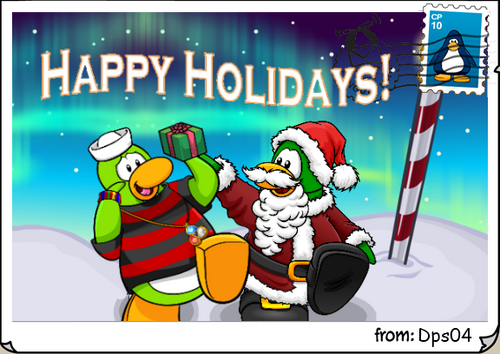 --

Dps04talk 14:45, December 19, 2014 (UTC)
Happy Holidays!

Enjoy every moment of your holidays!
17:42, December 20, 2014 (UTC)
Happy New Year 2015!
Hey! :)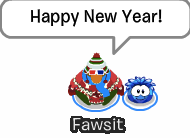 Hope you've had an amazing 2014 and hope 2015 goes just as well if not better! :D
From, Callum! :)
Callum Fawsitt
00:37, January 1, 2014 (UTC)
HAPPY NEW YEAR!!
Happy New Year! Hope you enjoy the new year!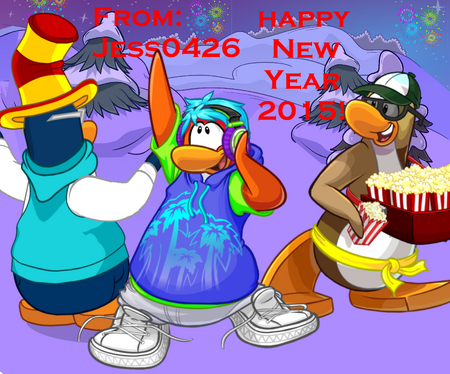 Jess0426 (talk) 18:41, January 1, 2015 (UTC)
Re: New Bureaucrat
Hey, Wolf-gangs.
Thank you for congratulating me. From the "very beginning", do you mean back in 2011 when you were saying I wasn't ready to become a chat moderator? XD Haha. Anyway, it's been a great 3 years here, and I'm honored to become a bureaucrat. I'm also happy to see that you're still on this wiki.
Cheers,
--Hey.youcp
16:57, January 17, 2015 (UTC)
Patroller Promotion Votes
Hi, Wolf-gangs.
Since the recent votes ended on January 17 in a tie between two patrollers, I would like to make the new end date January 24 (a week after the original end date). This will allow a few more days for users to vote so that we can hopefully determine a winner. What are your thoughts on this proposal? If you agree, please let me know so I can unprotect the page.
Thanks,
--Hey.youcp
22:45, January 19, 2015 (UTC)
Re: Responsibilities as a bureaucrat
Hey, Wolf-gangs.
Sorry to see that you are resigning, but I respect your decision. I have taken note of your request to keep the admins wiki in good shape and to update our policy pages. I will also try to meet up with you in chat (or email you if you would like) to transfer control over the Twitter account. On a different note, after contacting Awesome335, I have extended the patroller promotion vote until January 24. However, in order to keep the vote fair, I have had to remove your vote since you voted after the votes officially closed. Now that the vote is the same as when it officially ended, please feel free to add your vote back.
Thanks for your message and sorry for the inconvenience,
--Hey.youcp
22:49, January 20, 2015 (UTC)
Re: Wiki Matters
The layout that you came up with looks good. Can you copy it to the admins wiki and start a new discussion on it so that we can work on revising it (if necessary)?
--Hey.youcp
19:57, January 22, 2015 (UTC)
Re: Report Center
I'm glad you noticed this. I've merged the "Reports" section with the "Report Centers" section in the navigation. As for the Report Vandalism page, what changes did you have in mind to make it look better?
--Hey.youcp
04:37, January 27, 2015 (UTC)
RE:SWF Modify
Hi Sdg,
There are sevelar websites that offer downloading SwfModify. One of them is this one, though you can also see many others in google search.
Penguin-Pal (talk) 08:53, January 28, 2015 (UTC)
Re: Temporary promotion
Hi, Wolf. Not a problem. Thank you for taking care of it.
--Hey.youcp
18:25, February 3, 2015 (UTC)
By the way, you may want to consider giving yourself chat mod rights along with your bureaucrat right. It would make sense to have you as one.
--

Hey.youcp

18:49, February 3, 2015 (UTC)
Would you be okay with me giving you chat mod rights then? Also, did you have anyone in mind who would be a good chat mod? If not, we can open a vote for chat mod (or start up the Chat Mod Calendar to evaluate users).
--

Hey.youcp

17:00, February 4, 2015 (UTC)
Yeah, that's strange that bureaucrats can't promote users to chat mod, even though it currently states they can here. In any case, I've sent Wikia a request to fix that. I'll also ask if Penguin-Pal wouldn't mind being a chat mod.
--

Hey.youcp

22:46, February 4, 2015 (UTC)
Patroller Privileges Change
Also, it was suggested on my talk page in response to your message that patrollers should be able to protect and edit protected pages. How do you feel about this? We've already requested in the past for patrollers to be able to delete and undelete pages as well as move files, so I'm not so sure. Would it be too much power for patrollers?
--Hey.youcp
23:10, February 4, 2015 (UTC)
Bureaucrat Privileges Change
So I got an email back from Wikia in response to my request for users on our wiki with only the bureaucrat right to be able to promote chat mods and they wrote that, since the bureaucrat right should be used in addition to the administrator right, I should just give you your "missing" right back. But since your case is special in that you chose to resign as an admin yet remain a bureaucrat, I can either give you the chat mod right so that you can moderate chat whenever you're on, or you can give yourself the admin right so that you will be able to both moderate chat and promote chat mods. Whichever choice you choose is fine with me.
--Hey.youcp
23:07, February 6, 2015 (UTC)
Happy (late) New Year 2015!
Hey <insert name here>. Happy (late) New Year 2015! Here's a collage of all the users and characters from CP, CP Wiki, and the CP Spanish Wiki. Try to find yourself! If you do not find yourself, then I seriously apologise since
It was full
Perhaps you didn't have a custom penguin of your penguin
Either way, I highly appreciate for a wonderful 2014 and a bright new year 2015.

Time to rock out!
February 22, 2015
Re: Passing the torch
Hello, Wolf.
Sorry to hear that you have resigned after years of being a great admin and bureaucrat. You have certainly left your mark on the wiki during your time here, and I don't think the wiki would be what it is today without your contributions and leadership.
Don't worry about having kept your bureaucrat rights for the past 2 months. During that time, you helped with both blocking vandals and moderating chat, so thank you for that.
I understand you no longer have any interest in monitoring the wiki, but you are welcome to stop by whenever you feel like. You can also be assured that the wiki is in good hands. I have faith that the other admins will keep this wiki in good shape, and I will try my best to do the same.
Please continue being an outstanding person,
--Hey.youcp
22:12, March 12, 2015 (UTC)
Policy Layout
Hi, Wolf.
I was thinking about the suggestion you made on my talk page a while ago about updating the layout of the first section on our Policy page to the new layout you made, and I'd like to ask the community on the Vote Page what they think of it. However, before adding it to the page, I want to make sure I add exactly what you intend with this change. You suggest that we: Replace the first section with your layout, delete the pages under that section, get rid of the set consequences, and allow admins to make fair judgments for the consequences of policy violations that fall under the first section. Is this list accurate to what you intended? Am I missing anything from it? Please let me know.
Thanks,
--Hey.youcp
05:15, March 17, 2015 (UTC)
Happy St. Patricks Day!!
Happy St. Patricks Day and maybe if you are lucky you will find a rainbow with a pot of gold!!
Jess0426 (talk) 19:12, March 17, 2015 (UTC)
Beta?
I don't know whether you even visit here anymore so I dunno whether you'll read this. Were you (Sdgsgfs) a beta tester? — Spydar007 (Talk) 16:58, March 19, 2015 (UTC)
Happy Easter
Happy Easter from Dps04!


--

Dps04talk 16:55, April 6, 2015 (UTC)
Admins Wiki
Hi Wolf-gangs! :)
I was wondering if you can please invite me to the Admins Wiki. I have permission from Hey.you. My username is the same as here.
Regards, Callum! :)

Callum Fawsitt


(talk) 22:37, April 13, 2015 (UTC)
IRC channel
I'd like to point out to you that all flags were lost when Miron dropped the channel and that is why you do not have rights. Neither Callum nor I removed them. You are neither a bureaucrat nor an administrator here, so you really have no reason to have rights. — Spydar007 (Talk) 17:37, April 17, 2015 (UTC)
Callum seemed to think you were, and chat logs suggest otherwise. Either way I don't care, but Callum is certainly not to blame for any of it. —

Spydar007

(Talk)

11:03, April 18, 2015 (UTC)
--Wolf-gangs (Talk) 08:14, May 27, 2015 (UTC)
Well done!
Hello Wolf! I just realized that you have 8,000 edits now, congratulations!
Ember LOVES The Fair 2015! 14:03, May 27, 2015 (UTC)
Re: Long time no see
Hey, friend.
Life's going well. So is the wiki. It's always nice of you to stop by. How have things been going in your life?
Have a good day,
--Hey.youcp
03:00, June 29, 2015 (UTC)
Re:Long time no see
Hey Wolf,
Yeah long time no see :p Indeed, I have been a bit busy recently and has no longer been on chat as frequently as before. Nevertheless, I do come on chat occasionally, but unfortunately you are either offline or away, so we hardly had the chance to chat. Ill try to be on chat more soon, and so we can have a nice little chat together. Anyway, what about you? Has life been tough for you too? Please reply and I hope to see you soon :D

Dps04talk 13:21, June 30, 2015 (UTC)
In-Game Image
Hi, Wolf.
Regarding the question you asked in chat, you can generate a high quality image of the Rainbow Board in-game (I'm assuming this is for the CPWN) through the following method:
Extract frame 3 (the one with the skateboard facing the bottom right) from the item's sprites file and rename it to "item0"
Create two copies of the in-game penguin SWF
Delete the blue ring and shadow from one copy and the penguin from the other copy
Render the two copies and make sure to set the seconds long enough on the copy with the blue ring and shadow so that it has enough time to load in the skateboard (3 seconds should be enough)
Open the rendered images in an image editor, place the penguin in a top layer, and merge the layers
Hope this helps,
--Hey.youcp
05:45, July 15, 2015 (UTC)
Script
Hi Sdgsgfs,
Add this script to the Common.js page in your wiki. then, to the place in the main page where you want the widget to appear, add this:
<

span

 

id

=

"twitter-widget"

><

/

span

>
Penguin-Pal (talk) 09:55, August 3, 2015 (UTC) --
Wolf-gangs (Talk) 17:37, August 27, 2015 (UTC)
RE:Hi
Hi Sdg, good to hear from you!
The wiki and i are fine and crazy, as always ;) You should really come more frequently if you can.
Penguin-Pal (talk) 07:24, November 14, 2015 (UTC)
Never knew you were in animal crossing!
http://animalcrossing.wikia.com/wiki/Wolfgang Darien8910 (talk) 23:50, November 24, 2015 (UTC)
Happy Holidays!
Stay Safe, and have some fun! :)


--

Dps04talk 17:42, December 22, 2015 (UTC)