Administration
TomasBat, I would really appreciate some administration help for this Wiki. I go on vacation for two months every summer, where I can rarely use the Internet. I was starting to worry about who could manage the Wiki for those two months, although Robbsi does a very good job of editing. Here are some things that I do regularly:
Check the recent changes and make sure that all edits are relevant, and fix any mistakes.
Update the Wiki with new Club Penguin information. The Main Page should have the latest news and secrets. However, the news/secret content on the Main Page doesn't have to have perfect grammar, as it is temporary.
But there's one thing you must teach me: Is there a way to give you the official title of administrator? V-Rex 13:41, 24 April 2007 (UTC)
I'm sorry, but the special:userrights page directs to an error. It reads:
"The action you have requested is limited to users in the group "staff".
Return to Main Page." V-Rex 13:32, 25 April 2007 (UTC)
TomasBat, another thing that CP administrators do is keep the Event Gallery updated with images from Club Penguin events. V-Rex 17:46, 26 April 2007 (UTC)
You are now a sysop! V-Rex 22:24, 27 April 2007 (UTC)
Wow...
You've dited you're user page? YOWUZA TALK 2 ME! 16:52, 17 October 2008 (UTC)
?
Who are you?????Lol...'m lost in thought..--Arre 320 Gimme an order of Krabby Patty's and a shake! 03:11, 8 November 2008 (UTC)
Hi! I don't think we have met. I am sockpuppets411. If you have looked, I am sure you have heard of me. I have always wanted to meet you. What's up?--Šŏčҝpũppëťš411 consider yourself...terminated! 15:08, 8 November 2008 (UTC)
An Award
I present you with this:
Have a blast!--Flystar55555 Speak to me!! 18:03, 9 November 2008 (UTC)
Re:Cool!
Hey, you're the earliest or something user here right? You're also the first person to fell for the trick!
-
The Pirate Ahoy! Talk T' Th' Pirate

13:04, 11 November 2008 (UTC)
Crisis
Well, The crisis lasted from about October 8th to October 12th, although it had been building up for a long time.
During that period many users quit, the The Federation of Penguins was formed, a strange revolt against the webmasters occured, and Agentgenius was banned.
Also, some users (especially 4th hale) started complaining about the Top Agents project.
See:
Hope that helped! Dancing Penguin
(Talk to me! I dare you!) 22:48, 12 November 2008 (UTC)
the Crisis
That's hard to explain. I, along with Agentgenius, were originally blamed for making a big deal, and turning it into a crisis. Here is what happened. Four or five of our most active users quit. We quickly realized that about 70% of this wiki are based on Administrators, and that the admin-to-article edit was too low. from there, Agentgenius (and I) Started the original Federation of Penguins. We joined to insure no quitting would occur. Unfortunately, the business went haywire. Agentgenius was banned and thrown on the wall of shame, TurtleShroom thought that 4th Hale, agentgenius and I hated him, and virtually the entire wiki went "dead" Finally, we smoothed it out. --Šŏčҝpũppëťš411 consider yourself...terminated! 22:51, 12 November 2008 (UTC)
And I quit!... only to return 2/3 days later... Dancing Penguin
(Talk to me! I dare you!) 22:55, 12 November 2008 (UTC)
Yo Tomasbat, what's up? I have always felt guilty about this "Crisis," as TurtleShroom (and possibly Barkjon) seem to think that I am partly responsible for the crisis. (Which I probably am, coining the term "user Killer" even though somebody used the auto-login feature I have set, and they put stuff) and I was the reason Happyface414 quit, and Happyface414 was the reason 4th Hale quit, and freeloh just kind of left us in our time of need. Also, Aqua Jet i think quit. I can't quite remember. I just feel guilty that Agentgenius and I brought upon the old school FOP, the one taht became the anti-turtleShroom society. I feel so guilty, knowing that I have caused most of the controversy with this wiki. The crisis was our darkest hour. We must learn from that mistake. Its ok to make mistakes, just don't make the same one twice.--

Соккпũpпëтс411 Woah... 00:19, 15 November 2008 (UTC)

This is all true yet I think it was me who started the crisis. I made 4th hale quit which made us implode. And this is very democratic wiki.... we need to adopt democracy. I don't think we met. I'm Happyface fellow sysop and active admin. I am also webmaster of the CPFW. -- Happyface  03:58, 16 November 2008 (UTC)
Dont take it too hard on yourself Happyface. It was TurtleShroom who placed the bomb, one small spark from you accidently lit it. --4th hale

(talk) 09:18, 16 November 2008 (UTC)
I was partially responsible too. I created the problem out of it, and i accidentally made Happyface quit.--
Šŏčҝpũppëťš411 consider yourself...terminated! 19:35, 16 November 2008 (UTC)
You didn't. Your file did. My small spark made one giant explosion and one giant explosion creates one giant fire which makes one lousy life.-- Happyface  22:53, 16 November 2008 (UTC)
Hello TomasBat! Want to meet on Club penguin? I'll be on Glacier at the Pizza parlor. Message me on my talk when your ready.--Flystar55555 Speak to The Sensei! My work! 03:08, 18 December 2008 (UTC)
Is Taraton your penguin?--Flystar55555 Speak to The Sensei! My work! 03:16, 18 December 2008 (UTC)
RE: Safety
Don't worry friend. I did all of that, and more.

I phoned up my grandfather, who told me about this stuff, and all is well.

I took down anything that was dangerous, and my grandfather (who once worked in a prison) told me that information was not even close enough to get me.

The odds of Bot finder getting me would be like getting struck by lightning the day you won the lottery. Impossible.
Don't worry, nothing will happen.

I promise.
TurtleShroom

P.S.: I'm so glad you're back on this Wiki! I thought you left years ago! Welcome back, fellow founder!
Come Back
Tomasbat Please Come Back You Dont Come Back Any More Cause Now Your Not A Saysop!
<=(
--Merbat Talk to me!

12:51, 27 July 2009 (UTC)
[[File:Lightupshoes!!!.png|thumb|left|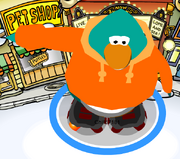 i know that you where bad at clubpenguin so text me now or your......
Wow
Hey this a new user on this site forgot what it is called Sorry. If you can have friends on this site lets be friends it would be so cool you could show me round.