CPCC 2013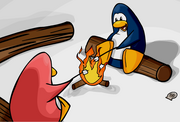 Dear user!
We'd like to let you know that the 2013 Camp Penguins Color Contest is on!
In the contest, you can nominate penguin colors, and the winner will win a prize! You can nominate until June 15th.
Thank you for your attention,
Penguin-Pal (talk) 12:22, June 7, 2013 (UTC)
Reply
Hi Jack,
What, can't i send a friendly greeting to my friends in thsi wiki? :P I haven't made a prize yet. I have a few options for a prize, thought it's a secret :P shh!!!
P.S. i gave my message a title though it's squeezed due to your archive sorting. I fixed it, if you don't mind.
Penguin-Pal (talk) 06:35, June 8, 2013 (UTC)
top trumps request
hope you like it!
-
PROTECT PRESIDENT TUBS AT ALL COST !
Rekanochi
HI! I wanted to tell you about the thread WHAAAAAT? or whatever it's called. I would've shut it down, but, honestly, I have no idea how. XD
Helmetpig2013
hey jack
just a message from helmetpig2013 (id like to be called helmet) asking how do you make a link to your talk by writing a message
oh BTW I'm a T&F fan as well (I enjoy seasons 1-6) let us remember thomas when it was good and when the 8 famous engines were thomas,edward,henry,gordon,james,percy,toby,and Montague (but he's usually called Duck)
A gift on October 24, 2013.

Hello Jackninja5DipperGravityFalls!
On October 24, you will get 3 FREE GIFTS. On that day, you will claim your gift.
Thanks for your attention and enjoy the gift on October 24!

Click
here
to claim your free gift!.
Mariocart25

00:17, October 12, 2013 (UTC)