Explore

Club Penguin News

add

-

old
Sugar's Monthly Scoop
Issue #1 - February 2016 Contents

Updates

Comic
More




Hello! Welcome to the very first issue of Sugar's Monthly Scoop for 2016! Now if you are wondering, yes, I have moved this to a mo…

Read more >

Greetings everyone!

Gary the Gadget Guy has discovered a power source to repair the alien puffles' UFO – but it existed millions of years ago! All players can head back in time using the Time Trekker …

Read more >

Hi everyone!

The Holiday Party is here and everyone on the island is spreading cheer! During this awesome event everyone can collect gifts from the advent calendar, make donations to Coins for Change,…

Read more >
Featured Article
The Water Party 2008 was a party in Club Penguin held from June 13 to 17, 2008. The reason it was thrown was to celebrate the 1st anniversary of the flood, caused in the Cave by a crab that broke one of the windows at the first Water Party. Players were able to throw water balloons instead of snowballs, and every room had a water hose at the lower right corner that could be used to spray water. This also marked the only appearance of the Mega Whale party room.

Featured Item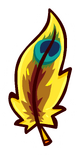 The Tropical Feather is a rare pin in Club Penguin. It was hidden at the Dock during the Island Adventure Party 2011, and all players could obtain it. The specific method for obtaining it was to reconstruct a small ship as part of the scavenger hunt. The ship would then fire the pin out of one of its cannons for the player to collect.

Featured Image
This month's picture:
---

Penguin of the Month

vote
We have a winner, chosen by our voters! Our Penguin of the Month is Ghhhooossst! Congratulations!
Forum
The Club Penguin Wiki has its own forum. There, you may find all sorts of boards, each for a different subject: you may find general discussion, news, technical help, and much more!

Recent Activity
The Jingle Bell
edited by Matthew.fitzgerald.16 1 hour ago
The Jingle Bell
edited by Matthew.fitzgerald.16 1 hour ago
Looking for opinions - should we be calling Herbert's freezing chambers from Operation: Blackout 'freeze-chambers', 'cryo(-)chambers' or anything else?
created by Penrock13 3 hours ago

| | |
| --- | --- |
| | Forgot about those furniture items, that's probably as close as we can get to an official name. I'll be using the name 'Containment Cel...  |
| | How about freezies-weezies? That's the perfect name!Just kidding. I think we should use the furniture item's name Containment Cells.  |
Related wikis

more

Club Penguin Ideas
The place where you can suggest ideas for Club Penguin

Club Penguin Archives
The place where you can find Club Penguin SWF files

Club Penguin Story Wiki
An area where you can create your own Club Penguin stories

Puffles Wiki
An entire wiki about puffles!

Club Penguin Music Wiki
A wiki for giving info about CP music

Club Penguin Humor Wiki
The Wiki for funny things about Club Penguin!

Club Penguin Shops
A wiki for creating Club Penguin shops, malls, and more

Disney Wiki
The Wiki about everything related to Walt Disney

Club Penguin Customs Wiki
The Wiki for custom Club Penguin media
Play Now

Join Chat
0
Club Penguin Wiki
By entering chat, you agree to follow the Club Penguin Wiki's chat policy.
Join the Chat>
Also see...
Other Items

A list of all available free items can be found here.

Polls
Penguin Poll
Are you excited for the Finding Dory Party?

Site News

add

-

old
Hey Everyone! :)

As you know, our Wiki has it's very own Facebook Page which is managed by…

Read more >

Hey guys,

Today I announced a movement called the #31DaysforCP Movement and I thought that…

Read more >

Hey Everyone! :)

As you know, our Wiki has it's very own Facebook Page that is managed by …

Read more >
Club Penguin™ is a registered trademark of Disney Online Studios Canada Inc. The Club Penguin Wiki is in no way affiliated with Disney, or Club Penguin itself.