514
Hello everyone! Since Techman isn't doing the updates, I thought I would give it a try! We have TWO new catalogs today, a new newspaper, a new update for puffles, and a new pin!
Penguin Style
Furniture Catalog
Igloo Catalog
Igloo Music
Newspaper
Puffle Snack Station Launched
A cool feature has been added, a puffle snack station! Just click on the machine and this menu will come up.
Pick a pizza and your puffle will jump up and eat it!
New Pin
The new pin is out, the Prank Fangs Pin, hidden at the Cave Mine!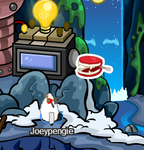 Puffles no longer hand items!
I had my pumpkin basket on, and I walked my orange puffle, and the pumpkin basket was still on me!
Well, that's it for today! See you later!

JWPengie is ready for the Halloween Party!
23:04, October 4, 2013 (UTC)
P.S. I may be starting my own version of the updates blogs!
Ad blocker interference detected!
Wikia is a free-to-use site that makes money from advertising. We have a modified experience for viewers using ad blockers

Wikia is not accessible if you've made further modifications. Remove the custom ad blocker rule(s) and the page will load as expected.