LOOK! I EMAILED CP AND THEY EMAILED ME BACK! LOOK: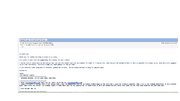 I ALSO HAVE SOME OTHER PROOF BELOW: NEW UPDATE: THERE WAS A GLITCH A CUOPLE DAYS AGO AND MY RED PUFFLR TURNED GRAY FOR LIKE A SPLIT SECOND! UPDATE: IT WORKS ON ALL PUFFLES! Here is a list of the puffles that might come out from most likely, to least likely:
1. Grey Puffles
2. Bat Puffles
3. Hot Pink Puffles/Magenta Puffles
4. Cat Puffles (or just new hat)
5. Gold Puffles
6. Puffle Monster 76. other different animal types of puffles (no proof besides cat puffles and bat puffles)
UPDATE! GREY PUFFLE COMING! LOOK! I FOUND IT IN A SWF FILE! LOOK: [1]
SO, what do you think? do you think it's coming, or not? LEAVE COMMENTS BELOOOOOOW!