Club Penguin Updates
Issue #6: April 17, 2014

[Click to show]

FUN FACTS


Members can adopt Orange Tabby Cat and Blue Border Collie on April 17.

Rockhopper will be a mascot along with Puffle Handler for The Puffle Party 2014.

That Puffle Party 2014 will be the first party to become available in the Club Penguin App.

Puffle Party 2014 is 6th annual Puffle Party in Club Penguin.
Club Penguin Times Issue #443


Club Penguin has released a the newspaper which is about the puffle party 2014. So Make sure you read the full newspaper and also read the Jokes and the Comics to laugh out loud and the secrets to find many mysteries.
---
New Pin- Puffle Park Pin
Club Penguin added a new pin named Puffle Park Pin which can be found inside the University.
---
Puffle Party Cheats
Here is the PH's notification that appears when you logs into club penguin, You must click next or ok for everything: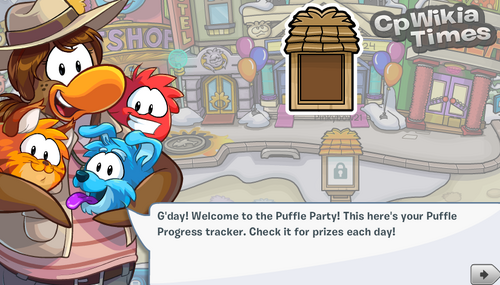 You must click the brown thing at the top to proceed: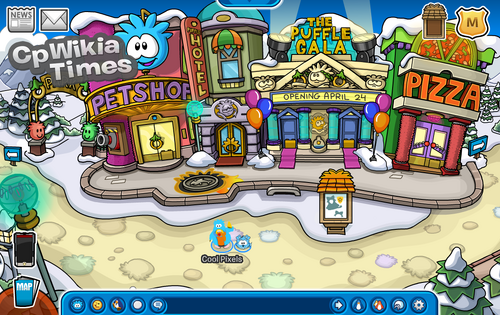 A screen pops-up and you have many options there. Here you can collect items by clicking Go There and going to some places. You can also transform into puffles (even if you are a non-member).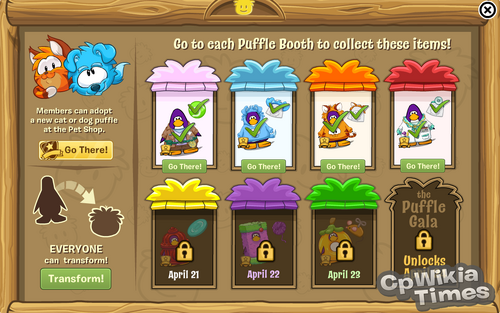 Here is the screen which appears when you tries to transform into a puffle, Just click Transform: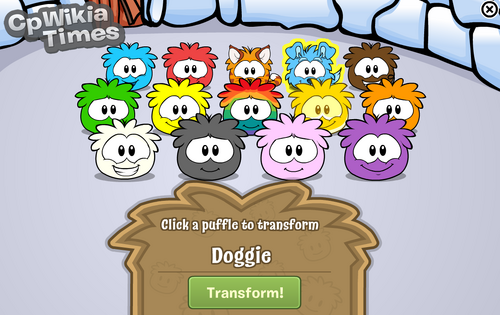 When you go to the Puffle Shop PH will be there and when you click here a screen pops-up and click next or ok. After that you must click the place where you usually buy puffles.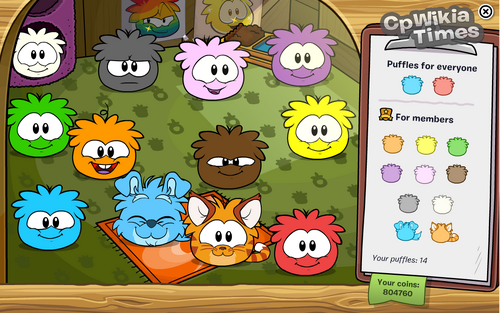 Once you get a puffle you can perform many puffle tricks, even digging.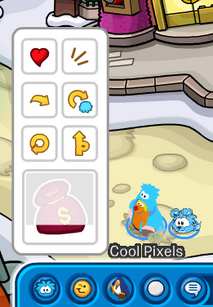 You can get a cool item when you head to the beach!

This screen apppears when you try to access the Puffle Gala before 24th April.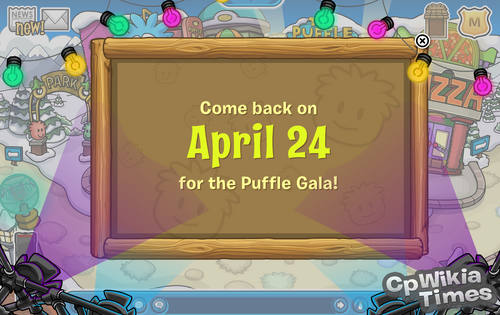 History

Hey everyone its your friend Cool Pixels. Club Penguin updated today and here are the updates. And how is the new theme? Its from The Penguin Herald and the logo is made by ME and Ivan55562 told me how to make it. Special thanks to Penguin-Pal and Roger6881 helping me make this theme. And also give feedback and improvements about this update page as a comment. Penguin-Pal helped me with the theme. Roger6881 gave me permission to use the theme and change the color.
Ad blocker interference detected!
Wikia is a free-to-use site that makes money from advertising. We have a modified experience for viewers using ad blockers

Wikia is not accessible if you've made further modifications. Remove the custom ad blocker rule(s) and the page will load as expected.