Hello ninjas, Today when i was on Club penguin and i noticed white clouds at the mountain of Misery and when i was on the bridge of destiney i found a shadow that looked like a Snow ninja this is what the picture looks like.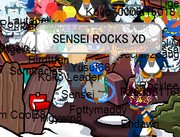 interesting Huh?s I can kind of see the beak and it looks like it is bowing? Could this be related to Snow ninja and the future Card jitsu snow? Also Club penguin said Arctic white might come out this month and white represents snow. What do you think? Comment below, Bsyew 03:44, May 23, 2012 (UTC)
PS. I made a new poll.IF Igloo contest is the winner i will be making several templates. So start voting and lets see what my blogs need!