Hello! If you didn't know, the Fall Fair or The Fair is back to Club Penguin with all new items at the prize booths. As of today, there are even more new items. Here is a list of the new prizes:
All penguins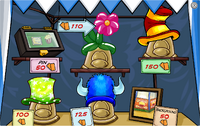 Green Cosmic Hat - 100 tickets
Blue Fuzzy Viking Hat - 125 tickets
Members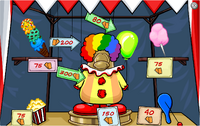 Green Balloon - 80 tickets
Popcorn - 75 tickets
Paddle Ball - 40 tickets
Don't forget to also keep your eye out for Rockhopper! You've got three more days left to meet him!
New Pin
The new pin, the Fair Ticket Pin, is hidden at the Book Room near the Library! Thank you Brookelas for reminding me about the pin!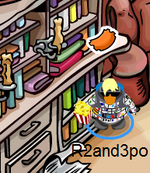 Schedule on Club Penguin
September 12 - The Fair 2010 ends!
September 14 - You'll be able to bring your Green Puffles into play in Jet Pack Adventure!
September 17 - New Better Igloos and Penguin Mail! Fairy Fables returns to the Stage!
September 23 - New pin!
September 24 - New Sports and Snow catalog! Also, special events/party at the Stadium!
Keep your eye peeled out for all of the above! Have a nice day!