Welcome back to the Field-Op Walkthroughs! Today marks the release of the sixteenth Field-Op and here's the walkthrough!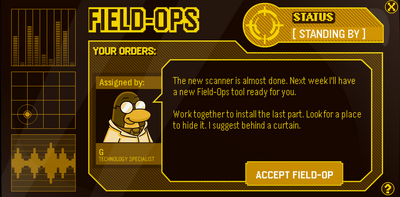 Here's the steps to follow to finish this week's Field-Op.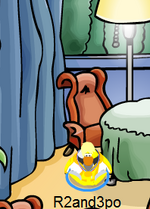 Go to EPF Command HQ and receive this week's Field-Op at the board.
Open your EPF Spy Phone.
Click the teleport button.
Click on the Dance Lounge.
Go to the curtain near the top left table. Your EPF Phone should be blinking green now.
Click on your EPF Phone and click "Engage".
Complete the puzzle for this week: Power up the Chipset!
You have now complete this week's Field-Op. For members, go and purchase something at the Elite Gear shop. For non-members, purchase the EPF Earpiece and stack up those medals. All penguins should complete the Field-Op since all penguins are eligible to obtain the Field-Op stamps that were recently released. Enjoy and check back next week for your Field-Op!
Ad blocker interference detected!
Wikia is a free-to-use site that makes money from advertising. We have a modified experience for viewers using ad blockers

Wikia is not accessible if you've made further modifications. Remove the custom ad blocker rule(s) and the page will load as expected.