WASSAAAAAAAAAP
hi! im ido. my name in club penguin is plongy. i dont have a constant server i visit. i am 13 years old.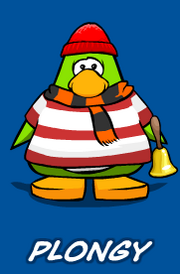 Club Penguin Name: Plongy. I know, it reminds plunger. Age: 845 Country Of Birth: Plungia Spacial: I have a big part in Club Penguin. What is my part? Well, You will probaly not belive it, but if you still wanna know, keep reading
My Part On CP
Edit
When i was 9 or 10, I really loved Club Penguin. So one day, a had a good idea: Make tours for new penguins!(it was before the Tour Feature) The tour idea went well, and then, after a few days, I remember I checked the The Newspaper, and one of the penguins I have guided Asked Aunt Arctic about tours.In that day, Club Penguin gained the idea for tours. so the tour feature is ALL BECAUSE OF ME. and that is my AMAIZING story.
Favorite Games
Edit
Worms 2
Roller Coaster Tycoon 2-3
NFS Most Wanted
Sims 2