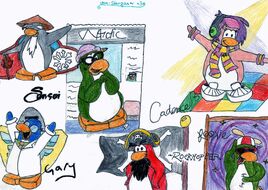 About me Edit
Hey guys ! I like to draw, edit pictures with gimp and much more !I'm grade 8. I'm living in germany. So if I spelled some words wrong, just tell me that ! I'm happy to learn from these mistakes and typos. Hope I meet some of you guys on Club Penguin. My fav colours/colors are blue and aqua. My name there is the same like here. I'm often playing games like Moorhuhn(or Crazy Chicken in other countries outside germany), Lemmings, Loom, Maniac Mansion Deluxe, ...
About my Penguin Edit
I like to play pufflescape and puffle launch with my blue Puffle Jolly and my red Puffle Foxik and Dance Contest with the song Epic Win in extrem Mode. When I become a member, I'll name my brown puffle Cookie, the black puffle Jacko, the pink puffle Bubble, the yellow puffle Sunny, the orange puffe laranja (sp. Orange), the white puffle flocon (fr. Snowflake), the purple puffle Disco and the green Puffle Joky. I bought 2 new Puffles. My 2nd blue Puffle is called Sky and my 2nd orange Puffle is called Snoozzle.At the moment, I'm Captain in the Ice Warriors CP Army.
My Puffles :)
Edit
My Party Outfits ^-^
Edit
Achievements/Random Stuff
Edit