Rewdewa is a semi-famous penguin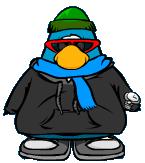 Rewdewa joined club penguin in december 2006 and his first pin was the bonfire and his first item was the red bandana. his first party was the Christmas Party 2006. He was a secret agent, a tour guide ans is an EPF agent. He Would usually go to the Dock on frozen, mammoth or Sleet. His Favorite game is kart surfer. He was a member from May 2007 and is currenly a level 3 member.
rewdewa first made the popular website [rewdewa432.wordpress.com] he shares this one with thomas432. he also has one called [rewdewa.wordpress.com] and has a twitter & piczo account. He currently does not use any of his websites anymore. He also has a youtube account where he would post club penguin videos during his time as a semi-famous penguin
the cppa was rewdewa's army, standing for club penguin penguin army.it has different ranks. The army started in 2007. in 2010 he made a new Army. Rewdewa's Secret Agents, as a reaction to the colsing down of the P.S.A.