Welcome to the Club Penguin Wiki! This page is yours- yes, yours. You can do anything you would like with it: you can add new sections, remove sections, or anything you want! There are no rules on how you make your page look! Remove this message when you're done reading it. Have fun! Just remember to follow the userpage policy to avoid your page being locked!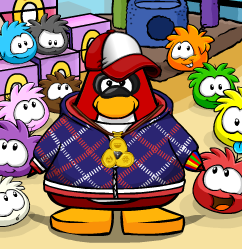 Im a fan of club penguin! Also Angry Birds, Paramount Pictures, ATHF, Base Jumping and Blob! My favorite famous penguins: Aunt Arctic, Gary, Rookie, and Puffle Handler! (a.k.a. PH)
About my Penguin
Edit
My penguin named Lucasguy2000. I like Blob, Club Penguin, Base Jumping, Paramount Pictures, Adult Swim and ANGRY BIRDS!!!!
My favorite pages
Edit
Userboxes
Edit
Most like angry birds. shall we?
My contributions
Edit