>

About Jackninja5DipperGravityFalls...

Jackninja5DipperGravityFalls has once been the Penguin of the Month! Cheers for them!

To vote for this month's Penguin of the Month, follow the link!
Jackninja5DipperGravityFalls


I am watching you
Information
Penguin's Name
Jackninja5
Favorites
What favourites?
Member?
Yes
First Pin
A Pin (I don't remember) D:
Famous Penguins Met
Rockhopper, Rookie, Gary the Gadget Guy (Herbert is not a penguin so he is not included)
Date Joined Wiki
July 21, 2012
Date Joined Club Penguin
August 2010
Admin?
No (only chat mod and rollback)
Jackninja5 is a crazy penguin on Club Penguin. He is a rollback and chat moderator on the wiki.
If you are my friend, put this on your userpage: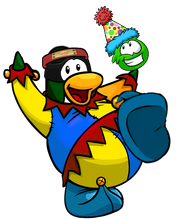 Interaction with others
Best Friends (In NO ORDER)
DA BEST!
Friends (In NO ORDER)
The cool people
Let me know if I forgot you ;)
Flit
Flit

Information
Available
No (He is mine :P)
Attitude
Silly, funny, my bad dude attitude
Member only
No
Favorite toys
 ?
Play action
 ?
Dance
 ?
Tongue color
 ?
Speed
 ?
Special features
 ?
Elite Puffle Items
 ?
Favorite Games
 ?
ID
 ?
Flit is my 9 year old puffle who I adopted in 2011. He is badly influenced by my evil actions here. He wants a Wikia account but he can't have one :P
History
In 2008, I was a non-playable penguin which could never be met. I was yellow. I was a secret EPF agent. Only Dot knew about me. As the years went by I never really used my spy phone. That was stupid of me. I could not stop the earthquake as it took a year for me to waddle back to the HQ. So it got fixed by some agent. I had failed a lot but in 2010, I made the biggest mistake ever. I refused to use my spy phone to escape from the wardrobe and then I got blasted off the island. Luckily I landed on an abandoned iceberg but I nearly felt like dying. Then some construction workers who wanted to tip the iceberg found me and got me to a hospital hidden in the island and I needed a new colour of skin. I chose dark green for a new life. I am now very responsible and use my spy phone more often. So I became a meetable penguin on Club Penguin after the explosion a few months later. In 2011, I became a Jester and I was seen often on Club Penguin. In October 27 2012, I got killed by an axe in the mansion but I can be seen as a ghost. On November 17 2012, I resurrected from the dead and due to my injuries being seriously bad I was now a crab. I found out that Herbert took over Club Penguin and fought him. I shut down many computers and my home had been destroyed with only me and my puffles there. As the puffles try reconstructing my house, I turned off all the computers. After destroying the fifth computer, I got captured by Herbert and put in a cage with the crabs. Someone else saved me and I finally defeated Herbert by destroying the last computer and saving the fellow agents. I was shocked to see Aunt Arctic as the Director. My house was restored and I began changing back to a penguin.
On January 12 2013, I was involved in a little party that caused many funny moments like Shurow dressing up as a girl. Many users came to the party and I was part of the Shurow Band lead by Marcus. However, a few hours later my home was getting destroyed so I had to leave it along with my puffles. We left on a boat but soon it got shipwrecked and now we are stuck back in time as there was some time travel device on it.
Gallery
The Wiki's Badges
Sprites
Parties
Operation: Blackout
A Random Party
Prehistoric Party
Prologue
Party
Hollywood Party
Others
Templates
2013 Updated Pin Tracker
Tracking...


Location found!

Pin:

Elemental Pin




Location:

Lake

Developed by Penguin-Pal

•

for public use

•

In order to use, simply add

{{Penguin-Pal Pin Tracker}}

Customize