About Me
Hey! Welcome to my user page. I may be a little less active at times due to school. I will try to be on whenever I can though. If you need help with anything, feel free to stop by my talk page and leave a message. :)
Thanks for reading.
Hey.youcp


My Current Player Card
Information
Penguin's Name
Kawkeet
Favorites
I like editing and helping out the wiki
Member?
Not currently
First Pin
Surfboard Pin
Famous Penguins Met
I've met all of them at some point in time except for Rookie and PH
Date Joined Wiki
October 11th, 2011
Date Joined Club Penguin
May 13th, 2007
Admin?
Yes
About My Penguin
Positions
Servers Appeared (First to Current)
Ice Box
Ice Berg
Blizzard
Frozen
Sleet
Mostly Commonly Seen Wearing
More information to be added soon... and by soon, I mean when I can think of something. :P
Poll
I don't have any poll ideas right now. Sit back and enjoy the chill music or check out this guy's polls.
Gallery
Igloo
Player Card
User Page
Poll Archive
My Friends
I have gotten to know some great users here, but I wouldn't want to leave anyone out. ;)
Useful Buttons
My Favorite Pages
Hey.youcp's Flag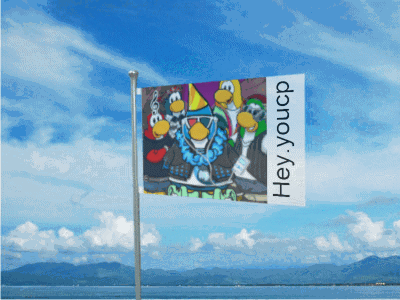 "
Club Penguin is one of those things that you don't just quit... it slowly begins to slip away from you.
"