読者こんにちは。私のユーザーページへようこそ。あなたはこれが何を意味するか知っていれば、気軽に私の会話ページを教えてください。 :D
バナナ
"
DOUBLE-KICK!
"
 

— Wasp125
"
DOUBLE-BAN!
"
 

— Wasp125
"
Herp derp herp derp herp derpity derp
"
 

— Wasp125
"
WHAT THE HOT SAUCE?!
"
 

— Wasp125
"
HOLY HOT SAUCE!
"
 

— Wasp125
I'm a crazy guy who loves video games, and mainly plays Nintendo and PC games. My penguin (Wasp125) was made around the start of the Music Jam 2009. I like LEGO, Minecraft, the Zelda series and more. I used to play LEGO Universe, then it got shut down D: I am probably the biggest Minecraft fan on this wiki! My icon on the wiki used to be me in Minecraft. My favourite games are: The Legend Of Zelda: Ocarina Of Time (Got a 3DS? GET THIS GAME NOW!!!!!), Minecraft (got a PC? AGAIN, GET THIS GAME NOW!!!), Kid Icarus: Uprising (THIS GAME IS AMAZING!! :D It's a lot more than you expect! AGAIN, GOT A 3DS? GET THIS NOW!!!), Zelda: Skyward Sword, and, of course, Club Penguin! I HATE MOSHI MONSTERS!!!!!! And I have a strange obsession with Pokemon... I have over 1000 edits now! I have made my own quiz (it's quite rubbish and short) here: Wasp125's Famous Penguin Quiz!!! I have made 1 page on this wiki so far: Glabook! I'm trying to reach a goal of 2000 edits! And I'm also a chat mod.
1000TH EDIT!
Edit
THIS IS MY 1000TH EDIT! :D
See here.
Things I hate
Edit
Moshi Monsters
Moshi Monsters
Moshi Monsters
Oh, did I mention Moshi Monsters?
Pookies
Pookies
Pookies
Oh, did I mention Pookies?
About my Penguin
Edit
Wasp125

Information
Full Name
Wasp125
Species
Penguin
Position
Secret Agent, Ninja, Fire Ninja, Water Ninja, Tour Guide, being epic, Supervillain, sometimes Superhero, and Guard at Businesmoose Inc :D
Appeared
Every Party since Music Jam 2009, and lots more.
Color
Red, Black, or Dark Blue.
Clothes Items
The Sunstriker, 3D Glasses, White MP3000 or Black MP3000, Polka-Dot Bandanna, Light Up Shoes (like a little kid :D), the old Treasure Book Puffle Flame Hoodie, and sometimes the Orange Citrus Hoodie.
Related To
Rookie
Friends With
A lot.....
Meetable Character?
Yes, usually at the Dock on Sleet.
I like Zelda. Yeah.
My favourite games are Ocarina of Time (it's over rated, but still amazing), Majora's Mask, Four Swords (extremely underrated), Kid Icarus Uprising, and Skyward Sword. :P
Pages I created (excluding sub pages, blogs, etc)
Edit
Do you like coke (as in Coca Cola)?
Famous Penguins Met
Edit
ALL OF 'EM!!!! But I met nearly all before stamps, luckily I met 'em again, and now I only need the Sensei stamp!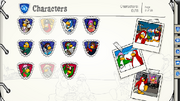 I removed all of my templates xD