Underwater Expedition
Talk

6
7,797pages on
this wiki
Archived
This article is about something that was for a period of time or is no longer in Club Penguin.

The Underwater Expedition is a party in Club Penguin. This party was seen in a sneak peek provided by Billybob. Rookie made an appearance in this party because of an EPF Spy Phone message saying he has ideas for it. Also, a news article shows a green penguin wearing Red Sunglasses and a Fish Costume. Since the Town is tilted to the left, the quarter of Beach and the half of Ski Village are underwater. EPF agents are told via spy phone to help the citizens of Club Penguin. "Bubble shields" are noted to be placed over the Everyday Phoning Facility, the Lodge, and over the Stage inside of the Lighthouse. The "bubble shields" are being utilized in an effort to prevent water from entering these places. When you are on the Iceberg, you can clearly see the Club Penguin island is tipping, this sight is rather ominous.
Free Items
Trivia
This is Club Penguin's fourth Expedition Party.
During the start of the party, Herbert escaped from the Classified Area. The reason in unknown, but some water was left there. Strangely, it updated right away in the middle of the afternoon.
When you throw a snowball on the island, it would slide a little to the left.
The island tipped because Rookie initially planned on filling the island with anvils, but, since anvils are so heavy it ended up tipping the island instead.
This is the first expedition party to have a mascot visit.
Unlike in the Festival of Flight, it was revealed that there were stairs and candy under the water area of the Cove.
Gallery
Sneak Peeks
Advertisement
Home Page
Login Screens
Constructions
Rooms
Others
Videos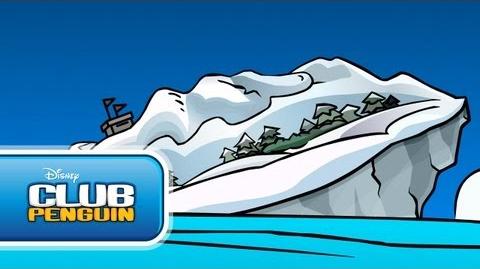 Music