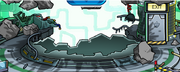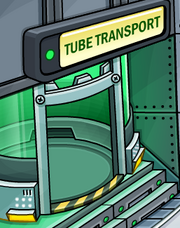 The Tube Transport was a transportation tube, located in the EPF Command Room, used to access to the VR Room. Also, in the VR Room, another Tube Transport is located there that transports you back to the EPF Command Room. The EPF table, chairs, and TV will sit here when the construction is finished.
Destruction
As part of Operation: Blackout, Herbert destroyed the Tube Transporter along with the Field-Ops Screen. The hole in where the Tube Transporter was later was covered up in The EPF Rebuild.
Trivia
It appears on a Card-Jitsu Card.
If you walked into the Tube Transport in the EPF Command Room and quickly walked out of it, you would still be transported to the VR Room.
It is based on a circuit of pneumatic tubes. However, since the penguin becomes a flash of light before loading the next room, it is possible that before being transported, the penguin is turned into energy to be sent quicker, and re-materialized once it arrives to the end.
Gallery
See also
Ad blocker interference detected!
Wikia is a free-to-use site that makes money from advertising. We have a modified experience for viewers using ad blockers

Wikia is not accessible if you've made further modifications. Remove the custom ad blocker rule(s) and the page will load as expected.