Transportation, or transport, is the movement of penguins from one location to another, which is vital for players to get the full experience in Club Penguin Island. Several modes of transport in Club Penguin exist.
Map

The Map is an object that can be used to teleport to various places in Club Penguin Island. It can be accessed by clicking on the map icon near the bottom left corner of your screen. If a player tries to enter a full room, the map is automatically opened. Not all rooms can be accessed via the map but by entering another room and going through another doorway.
EPF Spy Phone
The EPF Phone enables players to teleport from one room to another in Club Penguin. Unlike the map, it allows teleportation to the EPF Command Room.
Ski Lift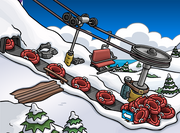 The Ski Lift is the way of transportation from the Ski Hill and the Ski Village, which players cannot actually ride in-game.
Tube Transport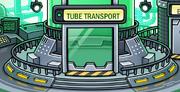 The Tube Transport was a futuristic form of transport, using air pressure or other forms, to push a penguin through it at astonishing speeds, and allowing 2 way traffic, as well as junctions without collisions. It can slow down a penguin quickly and deliver them to the room they request quickly and efficiently. It got destroyed by Herbert as a part of Operation: Blackout.
Other modes
Ad blocker interference detected!
Wikia is a free-to-use site that makes money from advertising. We have a modified experience for viewers using ad blockers

Wikia is not accessible if you've made further modifications. Remove the custom ad blocker rule(s) and the page will load as expected.