Tour Guide


A tour guide standing at the tour booth

Information
Full Name
Tour Guide
Species
Penguin
Position
Tour Guide
Appeared
Club Penguin
Color
Any
Clothes Items
Tour Guide Hat
Related To
None
Friends With
None
Meetable Character?
No
Were you looking for the Club Penguin moderator with the same name?
The Tour Guide project began on January 26, 2007,[1] with the intent of helping newcomers find their way around Club Penguin. To become a tour guide, a penguin must be at least 45 days old and have had no more than one ban (or sufficiently good behavior after a ban). Being a member is not required.
To apply, one goes to the Tour Booth in the Ski Village and takes a quiz. The eight-question quiz tests one's knowledge such as to where things are located, puffle facts, game play, and so forth. Answering seven out of the eight questions correctly wins a Tour Guide Hat, which can be found in one's clothing inventory. Only those who have passed the test and have the hat are official tour guides.
Whilst wearing the Tour Guide Hat, the player can use a pre-written message that summarizes the room that you are currently in. To do this, click the safe chat button → Activities → Give a tour.
Tour Guide question answers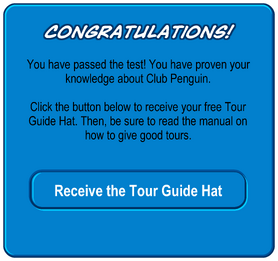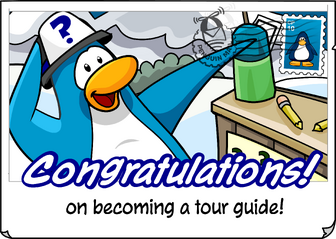 Note: questions do not always come in this order.
Trivia
Gallery
SWF
References