Archived
This article is about something that was for a period of time or is no longer in Club Penguin.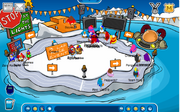 The Three Lap Race was an event on Club Penguin which took place during the Penguin Games. It was at the Iceberg. Other events at the Penguin Games 2008 were the Marathon and the Swimming Event.
Objective
The objective of the Three Lap Race was to run in a track for three laps around the Iceberg.