This page is incomplete!
This page is a stub. You can help by expanding it as soon as possible, then removing this tag.
The Snowball Crew are two penguins and one puffle (Flare) in a team that play snowball fight. They only appear in Club Penguin: Elite Penguin Force.
Missions
In EPF mission #1, one of the members lost his/her hat and the player needs Bouncer to take it off the Clock Tower.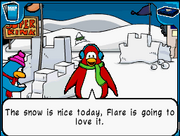 In EPF mission #5, the members need to sign a letter for to make Flare happier.
In a mini mission, the members' pizza has been accidentally swapped, and you need to get their pizza back from another penguin who has the wrong pizza that is actually theirs.
In the download mission, they have the water balloon to find The Unknown Elite Puffle, later revealed as Chill.
Trivia
It's unknown why Flare is in the snowball crew and not Bouncer.
One of them wants to build Snow Forts that are indestructible.
They also do water balloon fights.
Flare is never seen with them.
See also
Ad blocker interference detected!
Wikia is a free-to-use site that makes money from advertising. We have a modified experience for viewers using ad blockers

Wikia is not accessible if you've made further modifications. Remove the custom ad blocker rule(s) and the page will load as expected.