Club Penguin Times
Talk

13
6,418pages on
this wiki
Club Penguin Times (known as The Penguin Times before September 2007) is Club Penguin's local newspaper, which comes out every Thursday. It can be read at any time by clicking the newspaper icon on the upper left corner of the screen.
Aunt Arctic is its editor-in-chief, as well as its formal help columnist, and the headquarters of the newspaper was moved to the Book Room on June 14, 2012.
Newspaper look
Edit
Originally, the newspaper was similar to the other books in Club Penguin; It had many pages. Each page had a letter and a number- the letter, that came first, mentioned the sections of the page, while the number was used for different pages from the same section.
On November 18, 2010, the newspaper got a new look. Instead of pages, the newspaper was published on 2 sides of a long paper, that can be scrolled up, down and flipped. The comics and puzzles sections were removed, and the release time was changed from Friday to Thursday.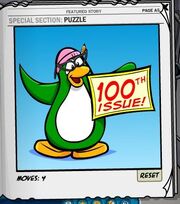 The Reviewed by You Section was moved to the What's New Blog in May 2009, and the Technical News Section was moved to the What's New Blog in February 2006 as it is more close to the real life more than the game.
Also, after the new look of issue #266, the CP team removed poetry, puzzles, and comics sections.
In Focus Tours
Edit
Starting in issue #125 up to #253, a section called In Focus began running in the Club Penguin Times, here is a list of every topic discussed of In Focus:
News Flash
Edit
News Flash is a new section added to the newspaper after the 2010 makeover. It replaces In Focus section. This section tells whats currently happening in the island.
(Issue 369-371 were replaced with Club Herbert Times, click here to view the list of news flashes of those issues)
Latest Upcoming Events SectionEdit
On now!: Furniture Catolog: Turn your igloo into a ninga hideaway with all new furniture.
May 23: Master Snow: Play Card-Jitsu Snow and train to unite the elements.
Milestone Issues
Edit

The old look of the newspaper had a few games on it's "Extra" section. The games were Dot-To-Dot, Puffle-So-Cute-O, Puzzle Shuffle and Word Search. There were hints to upcoming parties on Word Search.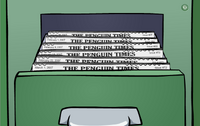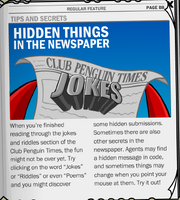 Newspaper Issues
Edit
External Links
Edit