This article is a disambiguation page.

The following is a list of links to other articles that are related to the one you are viewing. They may have similar names or be about the same subject. Find the one you wanted on this page. Please do NOT mark this article as a stub.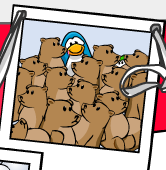 The Teddy Bear is an item appearing many times in Club Penguin. There is a Teddy Bear background, plush toy hand item, igloo item, and a pin.
Teddy Bear hand item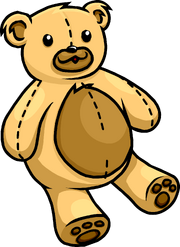 The Teddy Bear hand item is a plush toy that was given in the Bonus Game Room until the Fall Fair 2008. The Teddy Bear's price was 2000 tickets. It came back for The Fair 2009, and was available at the Great Puffle Circus Entrance, for the price of 200 tickets.
Teddy Bear background
The Teddy Bear background was given at the Fall Fair 2007.
Teddy Bear igloo item
The Teddy Bear igloo item is a big plush toy. Its price is 200 coins. The Teddy Bear igloo item was last released in the December 2008 igloo catalog.
The Teddy Bear pin

The Teddy Bear pin was the 25th pin. It was located at the center of the Pool.
Holiday Teddy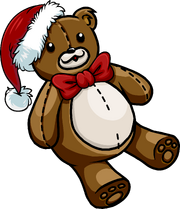 The Holiday Teddy is a hand item plush toy that was given out during the Holiday Party 2012 as a Holiday Gift. It was available to both members and non-members.
See also
Ad blocker interference detected!
Wikia is a free-to-use site that makes money from advertising. We have a modified experience for viewers using ad blockers

Wikia is not accessible if you've made further modifications. Remove the custom ad blocker rule(s) and the page will load as expected.