Surfboard
Talk

0
6,413pages on
this wiki
Surfboards are a type of transport in Club Penguin. They were released on August 31st, 2007, and on that same date, Club Penguin added a feature that enabled Members to ride their own surfboards in Catchin' Waves.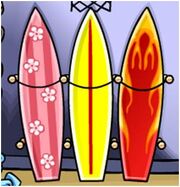 There are four types of surfboards, each one listed below. The Yellow Board is the only surfboard available to all players.
Yellow Surfboard (Normal, and has a red line down the center. It's the free one for everyone when you play Catchin' Waves, you will automatically have it with you unless you are using any of the next 3 Boards. It is the least resposive. )
Flame Surfboard (stereotypically mainly used by boys).
Daisy Surfboard (stereotypically mainly used by girls).
Silver Surfboard (Hidden item) To get it go to the Board page in Sport Shop's Catalog, then click on the green penguin's board (the one he is holding onto), then click on the Seashell on the floor and lastly the Starfish on the floor. To get it from the Game Upgrades catalog at the Cove, just click on the letters at the top. It also costs twice as much (800 coins).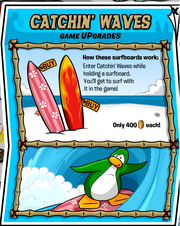 See also
Edit