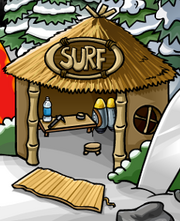 The Surf Hut is a structure that was found at the Cove until September 2013. It allowed players to play Catchin' Waves. It contained a water bottle, a hammer and a jet pack.
History
After the Cove Opening Party, the construction of the Surf Hut had began on May 29, 2007.
The Surf Hut was then completed on June 4, 2007, and the release of Catchin' Waves came along the completion of the Surf Hut.
On September 5, 2013, as part of the renovation of the Cove, the Surf Hut was replaced with a surf shack, and playing Catchin Waves was done by standing on top of a surfboard in the water.
Trivia
Gallery