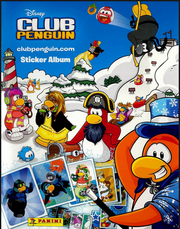 Club Penguin Stickers are only available in the UK for £1.99 per starter album. The Sticker Album is also free with the Club Penguin Magazine. One out of seven codes in a packet gives you a treasure book item while the rest are 50 coins, proven from the back of the sticker packet. There are 204 stickers to collect. It is 50p per packet. They are Free gifts in Club Penguin Magazine Issue 5, where many people will start there collection from.
Ratio of codes
Coin Code: 1:1
Treasure book code: 1:7
Gallery
Videos
Ad blocker interference detected!
Wikia is a free-to-use site that makes money from advertising. We have a modified experience for viewers using ad blockers

Wikia is not accessible if you've made further modifications. Remove the custom ad blocker rule(s) and the page will load as expected.