Archived
This article is about something that was for a period of time or is no longer in Club Penguin.
Not to be confused with the EPF Phone.
The Spy Phone was a small, blue phone that all Secret Agents received after becoming Secret Agents. It used to transport agents to nearly all of the rooms on Club Penguin Island, and contained some gadgets like the agent tools (scissors, a comb and a wrench). Since May 2010, when the PSA was replaced by the EPF, trying to use the Spy Phone alerts a message that directs the player to the EPF test.
Functional parts
Long-Range Antenna
View Screen
HQ Entry Button
14.3 Hz Auditory Impulse Receptor
Teleporter Scroll Button
"Tools" Button with scissors, comb and a wrench.
History
Secrets
In the F.I.S.H., when you click on on the long-range antenna on the spy phone, a coded note appears telling you that the LED blinking light says, "You are cool" in Morse Code.
The model number of the spy phone in the F.I.S.H., #102405, is a reference to October 24, 2005, the date Club Penguin was officially released.
Trivia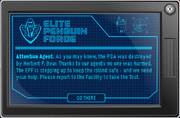 Gallery
Names in other languages
| Language | Name |
| --- | --- |
| Portuguese | Telefone-secreto |
| French | Le Spionphonik |
| Spanish | Teléfono de espía |
| German | Agenten-Handy |
| Russian | Шпионо-фон ППП |
See also
SWF