Not the article you were looking for? Check the disambiguation page.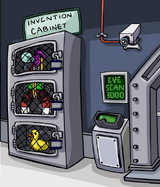 The Solar-Powered Flashlight is one of Gary the Gadget Guy's inventions. The flashlight was mostly seen in G's old Invention Cabinet. It is only used in PSA Mission 3: Case of the Missing Coins and in PSA Mission 8: Mysterious Tremors as an alternative if the player does not own the Night Vision Goggles
It is also used on Club Penguin: Elite Penguin Force, where Agent G uses it to find his Test Robots in the Mine. Then when you find G you have to snap it into the Spy Gadget to find your way out.
It may have been destroyed in the Popcorn Explosion.
Gallery
See also
Ad blocker interference detected!
Wikia is a free-to-use site that makes money from advertising. We have a modified experience for viewers using ad blockers

Wikia is not accessible if you've made further modifications. Remove the custom ad blocker rule(s) and the page will load as expected.