This page contains spoilers
This page contains content which may reveal plot or ending details.
Not the article you were looking for? Check the disambiguation page.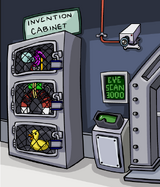 The Solar-Powered Flashlight is one of Gary the Gadget Guy's inventions. The flashlight was mostly seen in G's old Invention Cabinet. It is only used in PSA Mission 3: Case of the Missing Coins and in PSA Mission 8: Mysterious Tremors as an alternative if the player does not own the Night Vision Goggles
It is also used on Club Penguin: Elite Penguin Force, where Agent G uses it to find his Test Robots in the Mine. Then when you find G you have to snap it into the Spy Gadget to find your way out.
It may have been destroyed in the Popcorn Explosion.
Gallery
See also