Sled Racing
Talk

0
8,780pages on
this wiki
Sled Racing

Information
Players
2-4
Controls
Arrows
Minigame location
Ski Hill
Date released
August 22, 2005
(Beta Testing)
January 30, 2006
(Everyone)
Were you looking for the game from Club Penguin: Elite Penguin Force?
Sled Racing is a multi-player game in which you race with other penguins on Inner Tubes. There are four courses: Bunny Hill, Express, Penguin Run, and Ridge Run. Penguins get a token sum of money for placing. 1st place gets 20 coins, 2nd place gets 10 coins, and 3rd and 4th get 5 coins. As of April 24, 2009, members could buy Game Upgrades.
Versions and Levels
Bunny Hill
Bunny Hill is the easiest track out of the four. Two penguins can race.
Express
Express is a harder but easy level. It's pretty easy but harder than Bunny Hill.
Penguin Run
Penguin Run is the second hardest track in Sled Racing. It has more things to watch out for. This is the only track that can hold only three penguins. This is the first track that cliffs appear in.
Ridge Run
Ridge Run is the hardest track in Sled Racing. It is available for four penguins to ride at a time. In Club Penguin: Elite Penguin Force, this track is used for snowboarding.
Test Run
The Test Run is a special run that's available in Club Penguin: Elite Penguin Force and Mission 2. In the online mission, you test Gary's Prototype Sled, but it ends up breaking up, leaving you stranded in the Wilderness. In the DS game, you have to use a Pro Snowboard instead of red tubes or normal boards, because if you use a normal board or a tube it could break, causing you to crash. In the video game, Rookie tries to go down the run with a normal board but it breaks leaving him stranded in the Wilderness. However he is rescued by Jet Pack Guy shortly after he crashes, after you come to his rescue.
Upgrades
There's a Game Upgrades catalog for Sled Racing, where you can buy the Toboggan, Green Racing Sled and the Pink Racing Sled. You can use them in-game if you hold them and enter the game.
Tips
Hitting tree stumps, missing the snow ramp on logs, or any other obstacle makes you fall off, taking time to get back on the sled (Such as rocks).
Ice patches make you go fast, as they give you a turbo boost.
Jumps make you slower.
Old Blue clapping penguins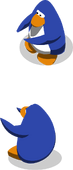 At the end of Sled Racing, there are two old blue penguins clapping. They are Sled Racing fans and always cheer for everybody. They were interviewed once by Aunt Arctic, but all throughout the interview, all they did was cheer penguins.
Glitches and mistakes
There used to be a mistake on the level Bunny Hill. You did not have to do anything, and you would never hit any obstacles.
There was also a complicated glitch in Sled Racing to allow penguins to stand in the pathways in the Mountain. You can only do this by clicking on Penguin Mail.
There was a glitch that if another person was coming to join you in the race, and you clicked the map right when they joined, the map would be open while you were racing. When the race was over, you would become the other penguin that joined. You could change their clothes and their igloo, including wasting their coins. You could even ban them. This is because you actually are on their account. The other penguin will lose connection and not be able to log on when they try. It also appeared on their computer. This was very annoying and harmful.
There was a glitch where coins switched places, so you ended up getting negative coins.
There is a glitch when you would fall over for no apparent reason.
Trivia
It is one of the five original games in Club Penguin.[1]
On November 18, 2005, two new sledding runs (Ridge Run and Penguin Run) were released.
It is featured on the SLED RACING Card-Jitsu Power Card.
The music was added on April 23, 2009.[2]
According to Club Penguin Times issue #176, the names of each of the runs were named by the two old blue clapping penguins.[3]
There is a mobile game for iOS called Sled Racer, though it is much different, being single player and never ending until you crash.
Gallery
Sleds
Glitches
Others
See also
Sources and References
Names in other languages
| Language | Name | Meaning |
| --- | --- | --- |
| Portuguese | Morro Abaixo | Downhill |
| French | Course de Luge | Sled Race |
| Spanish | Carrera de Trineos | Sled Race |
| German | Schlittenrennen | Sled Race |
| Russian | Супер-санки | Super-sleds |
SWF