Slang
Talk

13
6,407pages on
this wiki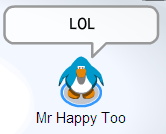 Slang is the common term for the vocabulary usually found on the internet or text messages from one person to another in order to abbreviate (or shorten) words. It has an abbreviative style, shortening phrases to acronyms or words to abbreviations. The abbreviations usually shorten the word so it can still be said and understood, while also being easy to read. Internet slang differs from real life, regional slang, although real life slang can also be seen in the game chat.
Below is a list of common slang acronyms and abbreviations said by many people on Club Penguin.
Common acronyms
Edit
The acronyms listed below are clean and safe to use. Foul language in Club Penguin is censored, so profanic acronyms will result in a ban.
| Slang Word | Definition | Example |
| --- | --- | --- |
| CP | Club Penguin | cp rocks!!!! |
| Old CP | Refers to Club Penguin before it was bought by Disney | Do u miss old CP? |
| iggy | Igloo | Party at my iggy! |
| lol | Laugh out loud | Lol Nice joke! |
| RH | A shortened way to say Rockhopper | Where is RH? |
| PH | A shortened way to say Puffle Handler | Where is PH? |
| AA | A shortened way to say Aunt Arctic | Where is AA? |
| PB | A shortened way to say Penguin Band | Where is the PB? |
| G | A shortened way to say Gary | Where is G? |
| Brb | Be right back | Wait Brb! |
| XD | Really big smile/laughing | Funny XD! |
| Cuz | Because | I cant attend cuz its scary! |
| Gtg | Got to go | I gtg bye! |
| Srry | Sorry | srry for not coming. |
| Ppl | People | hey ppl! |
| Idk | I don't know | idk what? |
| Idc | I don't care | idc what im doing! |
| Ik | I know | You dont know but ik. |
| Nvm | Never mind | Nvm that problem. |
| Ikr | I know right | Ikr weird! |
| Welp | Well and help | Welp I will be offline. |
| Afk | Away from keyboard | He/She is afk. |
| Jk | Just kidding | Jk im going. |
| Bck | Back | Bck again! |
| Btw | By the way | Btw I ate your taco. |