This Article is Out of Date
This article needs to be updated. One or more events have happened, and are not included.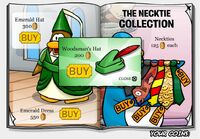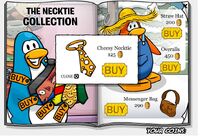 Secret Items require a click on any catalog. They are sometimes hard to find, but sometimes very easy. The Red and Blue Viking Helmets are hidden in every catalog. In April 2012 Club Penguin made it easier to find secret items by making the area sparkle and make a "Ding" sound if you roll your mouse over the correct spot and click on it. Before then, you had to roll over the secret place, and the only way to find it was to watch for your mouse icon to change.
Main article: List of Secret Items in the Penguin Style
Main article: List of Secret Items in the Furniture Catalog
June 2008
August 2008
November 2008
Furniture section of the Snow and Sports catalog: the "N" on The word "furniture" --> Pommel Horse.
January 2009
March 2009
May 2009
November 2009
February 2010
May 2010
September 2010
February–March 2009
Secret clothing (The FISH)
Secret Items in Special Catalogs
Viking Helmets
Viking helmets are secret items that always appear in Penguin Style. The Red and Blue Viking Helmets are still available in the catalog, but the Gold Viking Helmet no longer appears hidden in Penguin Style mostly likely due to it now being available in Club Penguin: Game Day! The Pink Viking Helmet was only available once in Rockhopper's Rare Items. The Gold Viking Helmet is now available in the Penguin Style catalog.