Conjecture
The subject of this article does not have an official name yet, and as such, it has a conjectural title.
River

Information
Where
Near the Wilderness
Opened
2006 (Only in Secret Missions) and in 2013 during Operation: Puffle
Closed
Still open
Mini-games
 ?
Room ID
 ?
Tour Description

?
The River is a stream of water in Club Penguin that can be found in Secret Mission #2, #6 and #11. It is believed that the river is the body of water that connects to the waterfalls that can be seen in the Dojo Courtyard. Many fish dwell here. There appears to be an unlimited supply. In PSA Mission 2 you need to catch a fish here with a fishing rod. It turns into a Frozen Lake behind Ski Lodge and it is used for Ice Fishing.
Appearances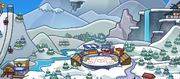 Gallery
See also
Ad blocker interference detected!
Wikia is a free-to-use site that makes money from advertising. We have a modified experience for viewers using ad blockers

Wikia is not accessible if you've made further modifications. Remove the custom ad blocker rule(s) and the page will load as expected.