Conjecture
The subject of this article does not have an official name, and as such, it has a conjectural title.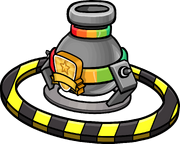 The Rainbow Cannon was an object in Club Penguin. It was located on the Puffle Hotel Roof and was used to get launched to the Cloud Forest, where the Rainbow Puffles lived.
Trivia
It looked very similar to a Puffle Launch cannon, although it was designed to launch penguins instead of puffles.
The Membership logo was printed on the cannon, indicating that only members could use it.
Something very similar would be the cannon at the Marvel Super Hero Takeover 2013, which was at the Beach. The cannon launched you to the Hero Carrier.
The yellow and black line on the ground would turn green when you finished all the tasks.
Gallery
See also