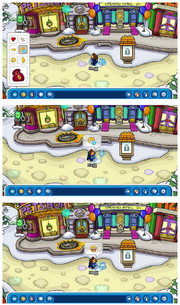 Puffle Tricks are special moves that Puffles are able to perform. They were first confirmed by Megg on April 8, 2014 on the What's New Blog,[1] and launched on April 17, 2014, at the beginning of the Puffle Party 2014.
There are seven different tricks. Players are able to access them from a special new button on the toolbar.
Tricks
Jump
Nuzzle
Stand on head
Roll
Spin
Dig on command
Speak
Trivia
The dig command can only be used every two minutes, and allows puffles to automatically dig for Puffle Digging.
You can only access the Puffle Tricks menu if you are walking a puffle.
The Puffle Tricks icon in the Toolbar will change color depending on the color of the puffle you walking with.
The Puffle Gala was primarily dedicated for performing puffle tricks.
There was a glitch during the Fashion Festival where clicking the "Nuzzle" command will result in the flashing camera emote, and clicking on the "Speak" command will result in the hanger emote, instead of the heart and brown lines, respectively.
Actions
References
Ad blocker interference detected!
Wikia is a free-to-use site that makes money from advertising. We have a modified experience for viewers using ad blockers

Wikia is not accessible if you've made further modifications. Remove the custom ad blocker rule(s) and the page will load as expected.