This room is a temporary room.
It can or cannot currently be found on Club Penguin. It may or may not return in the future.
Puffle Show

Information
Where
Ski Village
Opened
February 18, 2010, February 17, 2011, March 15, 2012
Closed
February 25, 2010, February 28, 2011, March 29, 2012
Mini-Games
None
Room ID
852
Tour Description

This is the puffle show. Watch the puffles race!
The Puffle Show was a members-only feature for the Puffle Party 2010 and the Puffle Party 2011, but it could be accessed by all players in Puffle Party 2012. Members could have fun with their puffles in this special feature. By standing in certain areas, your puffle would use the obstacle course, use the grooming section, or use the judging section.
Appearances
Trivia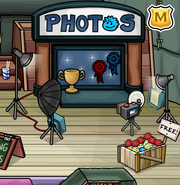 Gallery
Puffle Show Accessories
Other
See also
SWF