Ad blocker interference detected!
Wikia is a free-to-use site that makes money from advertising. We have a modified experience for viewers using ad blockers

Wikia is not accessible if you've made further modifications. Remove the custom ad blocker rule(s) and the page will load as expected.
For the O-Berry plant, click here.
Puffle-O's are the main food of all the puffles. While players are caring for their puffle, they have an option to feed it pet food; and when they do, they feed it Puffle-O's. Throughout Club Penguin, there are many references to Puffle-O's. There was once a pin for the box of Puffle-O's. It's made of O-Berries in a processed form.
Nutritional value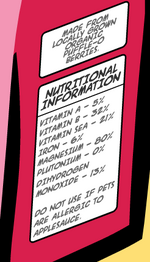 Made From Locally Grown Organic Puffle-O Berries
Vitamin A - 5%
Vitamin B - 32%
Vitamin "Sea" - 21%
Iron - 6%
Magnesium - 80%
Plutonium - 0%
Dihydrogen monoxide- 13%
Do NOT Use If Pets Are Allergic To Applesauce
Trivia
Gallery
Names in other languages
| Language | Name |
| --- | --- |
| Portuguese | Puffitos |
| French | Le Pinz Boîte de Croketos |
| Spanish | Puffitos |
| German | Puffle-Os |
| Russian | Пафловые колечки |
See also