Puffle-O
Talk

0
6,420pages on
this wiki
For the O-Berry plant, click here.
Puffle-O's are the main food of all the puffles. While players are caring for their puffle, they have an option to feed it pet food; and when they do, they feed it Puffle-O's. Throughout Club Penguin, there are many references to Puffle-O's. There was once a pin for the box of Puffle-O's. It's made of O-Berries in a processed form.

There are 25 Puffle O's per box.
There was a box of Puffle-O's in the Fall Fair game "Feed-a-Puffle".
They are found in the secret missions but are referred to as O-berries, as they are the pure and unprocessed form of Puffle-O's on the Wilderness.
Quite bitter if eaten by Penguins, although Puffle Handler seems to like them.
There are a lot of puffle types that enjoy Puffle-O's.
Combining it with Hot Sauce is a very dangerous effect on Black Puffles.
They have applesauce in them, according to the box.
It's similar as O-Berry, but different.
Nutritional Value of Puffle-O's
Edit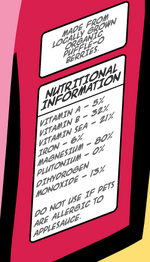 Made From Locally Grown Organic Puffle-O Berries
Vitamin A - 5%
Vitamin B - 32%
Vitamin "Sea" - 21%
Iron - 6%
Magnesium - 80%
Plutonium - 0%
Dihydrogen monoxide- 13%
Do NOT Use If Pets Are Allergic To Apple Sauce