Puffles were small furry pets native to Club Penguin Island. Puffles were first discovered in November 2005, and were first adoptable in March 2006, being sold for 800 coins, which had since been reduced to 400 coins. Puffles were small, limbless creatures who ate Puffle-O's and other foods native to Club Penguin.
Over the years, twenty additional species of puffle (including real-world animal counterparts) were officially recognized and discovered. Of fourteen, twelve were permanently adoptable for members, two Puffle Creatures were permanently adoptable at the pet shop, two were adoptable for non-members, and six were temporarily adoptable at Prehistoric Party 2014 and Prehistoric Party 2016. The Rainbow Puffle and Gold Puffle were adoptable via quests starting at the Puffle Hotel Lobby and Pet Shop, respectively.
The Blue Border Collie and Orange Tabby Cat became the first two permanently adoptable puffle creatures just prior to the Puffle Party 2014. Snowman Puffles became available at the Frozen Party, and Ghost Puffles became available at the Halloween Party 2014, a Blue Crystal Puffle became available at the Merry Walrus Party, after appearing in the TV special We Wish You a Merry Walrus. Alien Puffles became available for adoption at Operation: Crustacean.
There were Puffle Parties that had been held in either February, March, or April since 2009. Each puffle had their own special area (during the Puffle Parties) and, sometimes, there were discoveries of new species.
Description
Physical Appearance
Puffles originally appeared with rough cut fur and generic facial expressions. They had eyes and a mouth, but did not have noses. In 2011, they were updated with a new look both in-game and on the Puffle Card. In 2013, the puffles were shown in a somewhat mix of their original artwork and the 2011 artwork (when coming out of animations they may occasionally flash back into their original artwork).
Language
Not much was known about puffle language. Their main sound was squeaking, as seen (heard) in Puffle Roundup and by mousing over the puffles in Aunt Arctic's igloo in Secret Mission 1. Puffles also seemed to be able to communicate with each other in some way because in many secret agent missions and/or EPF missions, puffles worked together without making any sounds. In the book The Great Puffle Switch, it was revealed that puffles could speak to each other without penguins understanding. It was also mentioned by Aunt Arctic in the newspaper that she had been trying to figure out the puffle language and that Rockhopper could communicate with Yarr since they knew each other well.
Species Abilities
All puffles had special abilities, mainly involving telekinesis. Each species could summon a toy (varies from species to species) at will from mid-air. All puffles could summon hair brushes, bath tubs, and some puffles could summon color specific objects like a sleeping mask. Puffles also had a keen sense of treasure hunting and could also perform tricks.
Limitations
Members could adopt up to 75 puffles, with no limit on the quantity of each coloration, while non-members could only buy up to 2 puffles of either red or blue. Former members could keep their extra puffles. Puffles were the only type of pets penguins can own.
Care
Main article: Puffle Catalog
When a player clicked on a puffle, a full screen menu would show up with five different tabs. Each tab had corresponding options for the type of care. The options were as follows:
Food: This tab had options for you to feed your puffles. Food that appeared on this menu could be bought in the Pet Shop or from the interface. Most of the time, puffles would jump up and down for a food they like. If they didn't jump up and down at all, then they didn't like the food. The best way to feed a puffle was by giving one apple whenever the food bar is at a one-half point and 2 Puffle O's when it was empty.
Toys: The toys tab would show a ribbon of the basic toys for all the puffle colors you had. Additional, special toys could be bought in the Pet Shop. A puffle only played with its own toys (example: A red puffle would only play with bowling pins and cannons. It would not play with the white puffle's skates, the brown puffle's plane, etc.).
Care: The tab would show the basic care options for your pet. Here, you could give your pet a bath and brush their fur. The bath and brush features would appear in the interface.
Rest Tab: The rest tab would only show the Sleep feature. The feature would appear outside the interface.
Dress Tab: This tab allowed the penguin to put hats on puffles. You could buy the hats in the catalog or use codes to unlock them. All Puffles Creatures couldn't wear hats.
Pet Papers: Although not a tab, the puffle menu would show Pet Papers. Here, you could see your certificate of ownership, tips for Puffle Digging, or send your puffle back to its natural habitat.
Walk Tab: Since puffles could dig up food, this tab was created. It appeared at the left side of the interface and had a picture of a puffle on a leash.
Puffle Handbook: Although not a tab, the puffle handbook told you how to care for your puffles, information on the puffle color, and told you about their features. This handbook was also at the Pet Shop.
Not Caring: If you didn't care for your puffle, it would run away. When it ran away, it sent you a postcard to notify you.
If you made all the bars full, then your puffle would perform a special action.
In-Game Care
When a player clicked a puffle in their own igloo, a little menu appeared. You could see the tabs of your puffle and choose from 3 tabs. Here you could choose:
Walk Tab: Here you could walk your puffle. This tab could be used at the backyard and igloos.
Types of Puffles
All puffles costed 400 coins to adopt (formerly 800), except in the case of the Rainbow Puffle, Gold puffle, and most Puffle Creatures. The Blue and Red Puffles were the only puffles that were available to both non-members and members. Every puffle other than the blue and red ones required a membership to purchase. If a toy puffle was bought at a real store, one could unlock a member puffle. If a penguin was a member and had a Member Puffle, and his/her membership expired, the penguin would still have the member-only puffles. Each puffle had a different personality and style, so players could find the one that fit them best. These were all the puffles that have been permanently or temporarily adoptable in order of discovery dates.
Main/Adoptable Puffles
* indicates a non-member puffle.
| Photo | Color/Name | Description | Discovery Date |
| --- | --- | --- | --- |
| | Blue* | They are considered trustworthy, loyal, and easy to care for. These puffles are available to all players. They are one of the most popular. | November 2005 |
| | Red* | Red puffles are the most adventurous. They were discovered on Rockhopper Island by Captain Rockhopper, who decided to take some back to Club Penguin. The most famous red puffle is Rockhopper's puffle, Yarr. They can play Catchin' Waves with you at the Cove. | December 2006 |
| | Pink | They are known for their sportiness. They are also depicted as cheerful. They can play Aqua Grabber with you at the Iceberg. | November 2005 |
| | Black | They are known for their reluctance and shadowiness. However, they have a wild side; they love to skateboard and they are known to catch on fire when they are feeling happy and strong. They rarely smile, but they will smile when pleased. They can play Cart Surfer with you. | November 2005 |
| | Green | They are very energetic and silly. They are also the fastest puffles. They are much like clowns, and are usually seen with a propeller cap or a unicycle. The most famous green puffle is the Keeper of the Boiler Room, which sits on top of a speaker in the Dance Club. They can play Jet Pack Adventure with you. | November 2005 |
| | Purple | They love to dance, be picky eaters and are often portrayed as divas. They can blow incredibly large bubbles using their bubble wand. This puffle is perfect for Cadence, as she has one named Lolz. Purple puffles can play Dance Contest with you. | August 2006 |
| | Yellow | They are very creative and artistic, and are known to sculpt and paint perfect pieces of art. They love anything that has got to do with the arts, be it art, design, plays or music. There is also a yellow puffle named the Keeper of the Stage, which will appear when you pull the yellow lever on the Switchbox 3000. Yellow puffles used to be able to play DJ3K with you, until the game was removed. | October 2007 |
| | White | They are the smallest of all puffles, which fits their shy and quiet personalities. They are also known for their ability to turn anything in to ice, or create slopes of ice from thin air. They are connected back to ninjas quite often, especially since the first white puffles were spotted at the Dojo. This puffle seems perfect for Sensei. | February 2009 |
| | Orange | Orange puffles have been depicted as goofy and zany, somewhat like green puffles. They are native to the Box Dimension, which was where they were first spotted. Their prominent buck teeth and long tongues make them stand out among other puffles. | February 2010 |
| | Brown | Brown Puffles are the most intelligent puffles, as the Brown Puffle Cave where they were discovered is full of complex machinery. They play with rocket ships and dream of equations, complete with a graph paper background. They always wear safety goggles whenever they perform experiments. | January 2011 |
| | Rainbow | These legendary puffles come from the Cloud Forest above Club Penguin Island. Their existence was rumored in the community for many years before they were seen for the first time in the Puffle Party music video. They are known to be the most majestic puffles. They can fly and fart sparkles. Members can adopt a rainbow puffle by completing all four tasks at the Puffle Hotel. | March 2013 |
| | Gold | Like rainbow puffles, gold puffles had been rumored to exist years before they were discovered. Members can adopt a gold puffle by feeding their puffle a golden O' berry at the Pet Shop and waddling around until they dig up 15 golden nuggets, then activating the golden jackhammer in the Gold Mine. Gold puffles can dig up exclusive golden items while being walked. | November 2013 |
Creatures
Main article: Puffle Creatures
| Image | Name | Description | Latest Appearance |
| --- | --- | --- | --- |
| | Purple Turkish Van Cat | Purple Turkish Van Cat Puffles were first seen in a drawing in the Doodle Dimension at the April Fools' Party 2012. One later appeared in the video Puffle Trouble among the other puffles in the cave. | Puffle Trouble |
| | Bat | It was seen in the Mansion Attic telescope during the Halloween Party 2012. There is also a Puffle Bat Key Pin. They first appeared at the Halloween Party 2013 as part of the vampire's dance. | Club Penguin: Halloween Panic! |
| | Reindeer | Reindeer Puffles were first spotted at the Holiday Party 2012 exit page, then on the homescreen; then confirmed to be able to become one. These puffle species are slightly bigger than ordinary puffles. | Holiday Party 2012 |
| | Dragon | Dragon Puffles were rumored due to an appearance in a foreign Club Penguin Magazine issue. Their variants so far are blue and green. They appeared for the first time at the Medieval Party 2013. | Club Penguin: Halloween Panic! |
| | Unicorn | Unicorn Puffles are mythical puffles. You could transform into them at Medieval Party 2013 by mixing potions. A yellow variant appears in Puffle Wild. | Puffle Wild |
| | Chicken | Chicken Puffles appeared at the Medieval Party 2013. Members are able to transform into them. It's a result of a backfired potion, which happens when you mix the ingredients in the wrong order. | Medieval Party 2013 |
| | Dinosaur | Dinosaur Puffles were discovered at the Prehistoric Party 2014. There are six variants (Blue Triceratops, Black T-Rex, Pink Stegosaurus, Red Triceratops, Purple T-Rex and Yellow Stegosaurus). Players had to dig up eggs, then hatch them, before adopting them. | Prehistoric Party 2016 |
| | Border Collie | Full of energy, they're always up for a walk or playing fetch. Just watch out for their slobbery kisses. | Puffle Party 2014 |
| | Tabby Cat | Always curious, these cat puffle will get into almost anything. They love high places and being the center of attention. | Puffle Party 2014 |
| | Snowman | They are special puffles made out of snow, that resemble Olaf, created by Elsa. | Holiday Party 2015 |
| | Ghost | They are special supernatural puffles that were lurking in the Puffle Hotel during the Halloween Party 2014. Their energy was attempted to be used by Skip, but his plan failed. They are the 3rd limited edition puffles. They became again available at the Halloween Party 2015. | Halloween Party 2015 |
| | Rabbit | These are unique puffles, only found deep in the Wilderness. They appear in the mobile application Puffle Wild. They have large ears. | Puffle Wild |
| | Raccoon | These are unique puffles, only found deep in the Wilderness. They appear in the mobile application Puffle Wild. | Puffle Wild |
| | Deer | These are unique puffles, only found deep in the Wilderness. They appear in the mobile application Puffle Wild. They were first seen in another mobile app, Sled Racer. | Puffle Wild |
| | Blue Crystal | These are crystalline puffles. They appear at the Merry Walrus Party, and were brought to the island by Merry Walrus. | Holiday Party 2015 |
| | Alien | These puffles came from outer space. They could be adopted at Operation: Crustacean. The Green Alien Puffle was for everyone while three others could be adopted only by members. | Operation: Crustacean |
Appearances
Interactions
| Type | Location | Interaction | Puffle |
| --- | --- | --- | --- |
| Health | Hidden Lake, Cove, Puffle Hotel Roof, Water Dojo | Jumping in water causes the puffle to jump up and splash. | All |
| Food | Puffle Hotel Lobby, Puffle Hotel Roof | Clicking on a table causes the puffle to drink a smoothie. | All |
| Sleep | Puffle Hotel Lobby, Puffle Hotel Roof | Clicking a bed or sleeping chair causes the puffle to take a nap. | All |
| Play | Puffle Hotel Spa | Clicking the weight benches causes the puffle to lift a small weight. | All |
| Health | Puffle Hotel Spa | Clicking a grooming chair causes the puffle to be groomed. | All |
| Health | Puffle Hotel Spa | Clicking a washing chair causes the puffle to be washed. | All |
| Play | Puffle Hotel Spa | Clicking a treadmill causes the puffle to run. | All |
| Play | Puffle Hotel Roof, Cove (Puffle Party 2014 only) | Clicking on the diving board results in the puffle jumping off of it into the pool. | All |
| Neutral | Pet Shop | Adopting a puffle causes it to jump from the pet house and come to your side, color of rug changes depending on the puffle you walk. | All but rainbow or gold |
| Neutral | Cloud Forest | Adopting a rainbow puffle causes it to jump from the cloud cave and come to your side. | Rainbow and all (if you have a Puffle with you) |
| Neutral | Gold Mine | Adopting a gold puffle causes it to spring forth from the golden flow and come to your side. | Gold and all |
| Food | Pizza Parlor | Clicking the puffle snack station results in the puffle jumping up to eat a slice of pizza. | All |
| Health | Puffle Park | Clicking the fire hydrant results in the puffle being sprayed with water. | All |
| Food | Puffle Park | Clicking the o-berry trough results in the puffle eating a bowl of o-berries. | All |
| Play | Puffle Park | Clicking the scratch post results in the puffle scratching up against it. | All |
| Sleep | Puffle Park | Clicking the tree results in the puffle sleeping inside it. | All |
| Play | Puffle Park | Clicking the tire swing results in the puffle swinging on it. | All |
| Play | Puffle Park | Clicking the zipline results in the puffle and player sliding down, with the penguin on the seat and the puffle in the puffle ball. | All |
| Play | Puffle Park | Clicking the slide results in the puffle sliding down it. | All |
| Neutral | Any room | Puffles will randomly dig around the island, and can find one of four things: coins, items, puffle food, or gold nuggets | All |
Playable/Main Game Appearances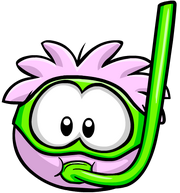 Some puffles can help you play games.
All puffles, even those which didn't have a specific game, could participate in Puffle Launch and Pufflescape, whether you were a member or not. You also did not need a puffle to play; red puffles were default for Puffle Launch and white ones in Pufflescape. The Rainbow Puffle, Gold Puffle, as well as all Puffle Creatures, couldn't participate in either game.
Cameo Appearances
Some of the power cards in Card-Jitsu involved puffles. There was a Card-Jitsu deck themed on puffles, which was called the Puffle Deck.
History
November 15, 2005: A blue fluff ball was spotted at the Ice Rink, a pink fluff ball was spotted at the Snow Forts, and a green fluff ball was spotted at the Night Club.
November 23, 2005: The "little fluffy things" are declared safe and a contest is held to name them.
December 14, 2005: The game Puffle Roundup is released so penguins can help capture all the puffles.
March 17, 2006: The Pet Shop is opened and blue puffles, green puffles, pink puffles, and black puffles are ready for adoption.
April 14, 2006: Puffle furniture is ready to be purchased in the Pet Shop.
August 25, 2006: Purple puffles are put up for adoption in the Pet Shop for the first time.
September 29, 2006: Penguins are able to walk their puffles for the first time.
November 24, 2006: Penguins are able to bathe their puffles for the first time.
December 8, 2006: Rockhopper brings hundreds of red puffles from Rockhopper Island to Club Penguin and they become adoptable in the Pet Shop.
October 26, 2007: A yellow puffle is spotted at the Forest during the Halloween Party 2007.
November 30, 2007: Yellow Puffles become available in the Pet Shop.
February 13, 2009: Puffles start playing with their furniture for the first time.
February 20, 2009: During the Puffle Party 2009 a white puffle was spotted at the Dojo Courtyard and Ski Hill.
March 6, 2009: White Puffles become available in the Pet Shop.
February 18, 2010: Orange puffles are seen at the Ski Village during the Puffle Party 2010.
February 25, 2010: Orange Puffles become adoptable at the Pet Shop.
January 17, 2011: After leading an expedition into the wilderness, penguins discover brown puffles on an island just off the coast of Club Penguin Island.
March 8, 2011: The Pet Shop gets a major renovation, penguins buy food for their puffles for the first time, the new Puffle Interface is launched, and the puffles are given a new look.
October 4, 2011: Puffle hats are released.
February 11, 2013: Rainbow puffles make an appearance in Puffle Party (Gotta Have a Wingman), confirming their true existence.
March 7, 2013: Construction begins on the Puffle Hotel, a building tall enough to get to the cloud the rainbow puffles are on.
March 21, 2013: The Puffle Party 2013 arrives with the new Puffle Hotel at the Plaza. The Rainbow Cannon on the Puffle Hotel Roof launches penguins to the Cloud Forest to adopt rainbow puffles.
May 30, 2013: The price to purchase a puffle is dropped from 800 to 400 coins.
July 11, 2013: Puffles can have full care stats in the Puffle Interface. They can also dig up rare items in Puffle Digging.
August 15, 2013: Puffles start digging up for food in Puffle Digging.
October 3, 2013: Puffles can eat pizza at the Pizza Parlor using the Puffle Snack Station.
November 14, 2013: The Gold Mine, opens and penguins are now able to adopt Gold Puffles.
November 21, 2013: Puffles get mind controlled by Herbert and the Puffle Hotel renovates.
January 23, 2014: Penguins are able to adopt up to 40 puffles and keep them in their backyards.
January 23, 2014: 6 Dinosaur Puffles are temporarily adoptable.
April 17, 2014: Two new puffles, the Blue Border Collie and the Orange Tabby Cat puffles are available from the Puffle Party 2014. The Puffle Park will open, allowing all puffles to get active and get some fresh air. Puffles will be able to perform Puffle Tricks.
August 21, 2014 - September 3, 2014: One new puffle, the Snowman Puffle, is available for members to create and adopt.
October 23, 2014 - November 5, 2014: Members are able to capture and adopt the Ghost Puffle during the party.
December 4, 2014: Penguins enter The Wilds and find many new Puffle Creatures.
December 18, 2014 - December 29, 2014: At the final quest of the Merry Walrus Party, members are able to adopt a Blue Crystal Puffle.
March 26, 2015: The Puffle Party 2015 starts, and members who play Club Penguin on desktop can now adopt Puffle Creatures at the Puffle Wild
April 22, 2015: Snowman Puffles returned at the Frozen Fever Party 2015.
September 30, 2015 - October 21, 2015: Two dinosaur puffles returned at the 10th Anniversary Party, the Black T-Rex and Pink Stegosaurus Dinosaur Puffle respectively.
October 21, 2015 - November 4, 2015: Ghost Puffles returned at the Halloween Party 2015.
November 18, 2015 - December 2, 2015: Alien Puffles were adoptable at Operation: Crustacean.
December 2, 2015 - January 6, 2016: Alien Puffles were adoptable after Operation: Crustacean.
December 16, 2015 - January 6, 2016: Snowman Puffles and Blue Crystal Puffles were once again adoptable at the Holiday Party 2015.
January 21, 2016 - February 3, 2016: Dinosaur Puffles are once again adoptable at the Prehistoric Party 2016.
March 16, 2016 – April 6, 2016 All of the puffles were adoptable during the Puffle Party 2016.
Famous Puffles
Main article: Famous Puffles
Trivia
It took approximately 3000 submissions from players suggesting a name for these creatures in the "Name the Critter" contest. The Club Penguin Team eventually decided the winning name, "Puffles".[1]

The penguin that came up with the winning name was Gronnie.[2]

When players adopted a puffle, they would receive a postcard from sys saying "Thank you for adopting (puffle's name). It needs a lot of attention. Puffles will return to the wild when they are left alone for too long".
Most puffles were almost exactly half as tall as a penguin. The only exception was the White Puffle.[4]
There was a Card-Jitsu deck of trading cards with all cards about puffles.
Players used to be able to see the names of other players' puffles in their igloo; however, this feature was removed.
Puffles might've had telekinesis, because they seemed to be able to make items appear and pick them up without arms or hands.
If a member bought a puffle, but their membership expired, some puffles that were not red or blue would stay, which meant non-members could own member puffles.
Yarr, The Keeper of the Boiler Room, The Keeper of the Stage, and Aunt Arctic's puffles went missing during early/mid January 2010 due to the Cave Expedition. They could soon be seen in a rock slide, but soon they returned due to the new game Puffle Rescue where penguins saved puffles from the seas and in caverns.
On most of the Puffle Party logos, one could see that the letters had the colors of all the puffles (Red, Blue, Green, Yellow, Purple, Pink, Black, White, Orange, and most recently, Brown). The 'Y' in 'Party' was a Magenta/Fuchsia color.
It was likely that puffles were mammals, as they had fur and other features that made them mammal-like.

However, real life dinosaurs were reptilian, likely meaning Dinosaur Puffles were also reptilian.

In the 2010 Coins for Change results video, as the coin is traveling through the pipe, there is a Pre-Historic Puffle with two large teeth at the front of its mouth; however, this is just a statue.
When the Red Puffle was first released in the Pet Shop, they were only for Members, but in 2007, Club Penguin let the Red Puffles be for Non-Members as well.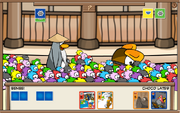 When puffles tried to use Puffle Beds, Puffle Igloos, etc., their old look would be used in the animation briefly.
It was unknown if they inhabited Club Penguin Island before penguins. Sensei might have brought puffles to Club Penguin, because he was supposedly the first penguin on the island.
There was a Card-Jitsu power card that featured every puffle released before White Puffles. The owner of the card rang a Bell which then caused a stampede of puffles onto the opposing player.
On September 29, 2006, penguins were able to walk their puffles for the first time.
Screenhog was originally not going to give puffles mouths, but Billybob and Rsnail convinced him to add them.[5][6]
Since Red Puffles came from Rockhopper Island, and Blue Border Collies and Orange Tabby Cats came from an unnamed island, it was possible that puffles were also found on islands nearby Club Penguin Island.
In May 2013, the price to purchase a puffle was changed from 800 to 400.
On June 20, 2013, Puffle Digging was added, which allowed puffles to dig for coins. Later, in July 2013, puffles could also dig up certain items and furniture.
2013 was the first time multiple puffles were discovered in one year since 2006.

Multiple puffles were discovered again in 2014.

Before, puffles counted as a hand item so the owner couldn't hold a hand item whilst walking a puffle; however, a few years before Club Penguin shut down, it became possible to walk puffles and carry a hand item at the same time.
As of January 2014, if a penguin had more than 10 puffles, he/she could move the rest of them to the Igloo Backyard. If a puffle was in the backyard, their stats remained the same.
As of April 2014, if you logged off on Club Penguin while walking with a puffle and login again, your puffle would be with you, and would not go to the Backyard or to the Igloo.
There were also versions of puffles as hand items, although these were not obtainable. They functioned similarly to how Flare did in-game.
As of May 2014, owners could've made their puffle dig anytime. After digging once, the player had to wait for roughly two minutes before a puffle could be made to dig again.
The Snowman Puffle was the first puffle to be artificially created by penguins themselves by finishing quests.
Gallery
Regular Puffles
Puffle Creatures
Famous Puffles
Others
Videos
See also
References
Ad blocker interference detected!
Wikia is a free-to-use site that makes money from advertising. We have a modified experience for viewers using ad blockers

Wikia is not accessible if you've made further modifications. Remove the custom ad blocker rule(s) and the page will load as expected.