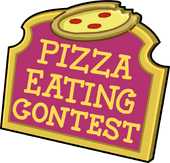 The Pizza Eating Contest took place at the Pizza Parlor during The Fair 2011 and The Fair 2012. It features a long table with 3 pizza trays and a sign on the right saying "Pizza Eating Contest" with a timer on its top, set to 30 seconds. Once it starts counting down, the players have to "eat" the pizzas by clicking them. The goal is to eat the most pizza slices.
Once the time is up, a trophy would appear on the winner's table (the winner is decided by the player who ate the most pizza).
Gallery
See also
Ad blocker interference detected!
Wikia is a free-to-use site that makes money from advertising. We have a modified experience for viewers using ad blockers

Wikia is not accessible if you've made further modifications. Remove the custom ad blocker rule(s) and the page will load as expected.