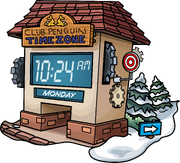 Penguin Standard Time (commonly known as PST) is the time zone used in Club Penguin. It is used for all clocks on the island. It is actually Pacific Standard Time. The main clock in-game is the Clock Tower- a giant digital clock located at the Snow Forts.
Penguin Standard Time is useful for meeting mascots at a scheduled time or meeting other penguins from other time zones.
Clocks
The PST time can be read in several places, listed below:
Trivia
Club Penguin's Penguin Standard Time stands for UTC-08:00.
The name is abbreviated to PST, which also stands for Pacific Standard Time, which is also UTC-08:00.
The reason why the time zone is PST is because Disney Canada's headquarters are located in British Columbia which uses PST.
Gallery
See also
External links
Ad blocker interference detected!
Wikia is a free-to-use site that makes money from advertising. We have a modified experience for viewers using ad blockers

Wikia is not accessible if you've made further modifications. Remove the custom ad blocker rule(s) and the page will load as expected.