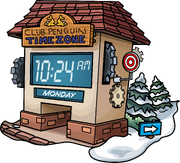 Penguin Standard Time (commonly known as PST) is the time zone used in Club Penguin. It is used for all clocks on the island. It is actually Pacific Standard Time. The main clock in-game is the Clock Tower- a giant digital clock located at the Snow Forts.
The Penguin Standard Time is useful for meeting penguins from other time zones or for interviews at a pre-determined time.
Clocks
The PST time can be read in several places, listed below:
Trivia
Club Penguin's Penguin Standard Time stands for UTC-08:00.
The name is abbreviated to PST, which also stands for Pacific Standard Time, which is also UTC-08:00.
Gallery
See also
External links