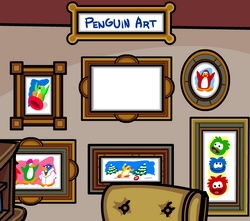 The Penguin Art was a gallery of real-life artwork featured in the Book Room during the 5th Anniversary Party. It could be viewed if the player clicked on the wall gallery. After the party, it stayed in the Book Room.
History
On September 23, 2010, it was announced on the What's New Blog that there would be fan art shown at the upcoming anniversary party.[1] On October 23, 2010, the 10 pieces of art appeared on the wall of the Book Room.
In 2016, the gallery was disabled and replaced with an online submission process.
Gallery
See also
References
Ad blocker interference detected!
Wikia is a free-to-use site that makes money from advertising. We have a modified experience for viewers using ad blockers

Wikia is not accessible if you've made further modifications. Remove the custom ad blocker rule(s) and the page will load as expected.