Not the article you were looking for? Check the disambiguation page.
Moss Key Pin

Information
Available
Yes
Type
Pin
Member item
Yes
Party
None
Cost
Free
Where found
Underwater
Item ID
7016
Unlockable
No
The Moss Key Pin is a pin in Club Penguin. It is hidden in the Underwater room, and only members can obtain it.
This pin is required in order to enter the Underwater Room from the Hidden Lake. In order to access the Underwater Room, the player must follow the Giant Squid on the first underwater level of Puffle Rescue. It will lead the player to a hidden entrance, and from there, they can obtain the Moss Key Pin.
History
| Available from | Available until |
| --- | --- |
| March 15, 2010 | March 30, 2017 |
Finding the pin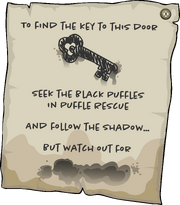 The only way to find this pin is to be in the Underwater. However, it is impossible to get into this room without the pin unless the penguin plays the game Puffle Rescue.
In the game the penguin must play the, members only, Underwater Level of Puffle Rescue. after saving the black puffle, the Giant Squid will appear and swim out to sea leaving a trail of bubbles behind it. The penguin must use those bubbles to chase the giant squid to a coral reef far out to sea, where there will be a staircase which leads into the Underwater room, where the Penguin can get the Moss Key Pin.
Trivia
Gallery
Names in other languages
| Language | Name |
| --- | --- |
| Portuguese | Pin Chave Musguenta |
| French | Le Pinz Clef des Fonds Marins |
| Spanish | Pin de llave musgosa |
| German | Moos-Schlüssel-Anstecker |
| Russian | Замшелый ключ |
See also
SWF
Ad blocker interference detected!
Wikia is a free-to-use site that makes money from advertising. We have a modified experience for viewers using ad blockers

Wikia is not accessible if you've made further modifications. Remove the custom ad blocker rule(s) and the page will load as expected.