Not the article you were looking for? Check the disambiguation page.
The Medieval Party 2008 was a party in Club Penguin that started on May 16th, 2008, and ended on May 25th, 2008. It was the first Medieval Party in Club Penguin. It was described by Club Penguin (and many other penguins) as one of the biggest parties in their history. Most of the rooms were decorated and the Switchbox 3000 was moved to the Mine to control the dragon.
At the Mountain there was a "Magic Mirror" which operated in a way similar to that of a "Magic 8" ball. In the Gift Shop's catalog Penguin Style there was a dragon, knight and princess costume for Member Penguins, and a note from the party committee about preparing for this party hidden behind the clothing catalog. The free item was the Squire Tunic at the Dock. The Wizard Hat was also re-released at the Lighthouse.
This was the first party to include an exclusive room which is only available during special events called the Treehouse Fort, which was located above the Forest. This is the first Medieval Party after Disney's purchase of Club Penguin.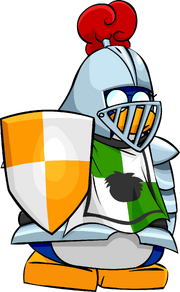 Free Items
Trivia
Gallery
Rooms
Other
SWF
Ad blocker interference detected!
Wikia is a free-to-use site that makes money from advertising. We have a modified experience for viewers using ad blockers

Wikia is not accessible if you've made further modifications. Remove the custom ad blocker rule(s) and the page will load as expected.